Last night for Halloween, Sammy dressed up as a gorilla in a leisure suit and he carried around an old briefcase for trick or treating. We met up at one of his friend's houses, and Sam, along with 9 of his friends hit the hot spots in the neighborhood. It was so fun.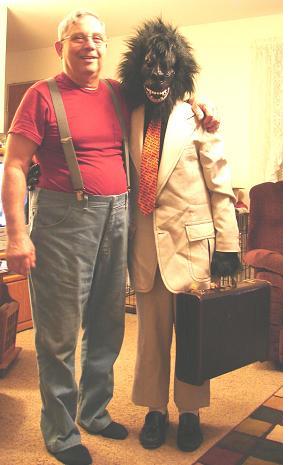 One house had set up a scary maze and another had a haunted house thing. Both had put a heck of a lot of work into them, and the boys had a great time. So did Kev and I. At the maze, one girl successfully scared the crap outta Kev, and at the haunted house, a young boy dressed as a skeleton scared me half to death when he rose up out of the "cemetary" and shouted at me. Very cool.
Two churches in the area did "trunk or treating" and the boys went through both. Trunk or treating is where the church parishioners set up trick or treating for the kids out of their vehicle trunks in the church parking lot. It's well lit and well-attended, so it was like a grand parade of kids in costume. The boys got to see a bunch of their friends, and their friends go to see them... and they got to be admired and laughed at/with for the costumes... and they got a ton of candy.
At one church, a very tall man was dressed up as Moses. He was awesome. He also had a large telescope set up and focused on the moon, so everyone got to view last night's waxing gibbous moon close up in the beautifully clear Halloween sky. Again, awesome.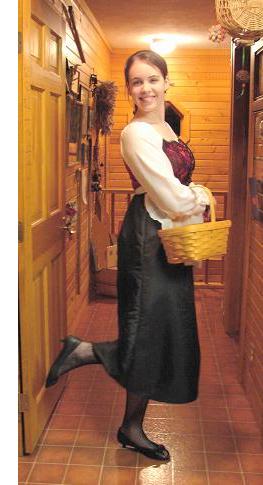 I don't know much about telescopes, and it wasn't until we were walking back to the car to leave that church that I realized through the telescope the moon appeared waning, not waxing. One for research...
Then we went to family so Sam could trick or treat at their houses, and get his photo taken (with his Grampa, above).
Joyce stayed home and handled the many trick or treaters we had at our house last night. A whopping zero. Like usual. We're too far back in the woods and off the beaten track... But she did dress up for that party the other night, and she made an adorable Little Red Riding Hood. The party she went to, though, turned out to be pretty lame... it started at 8pm, and Joyce and her friends got there about 9pm... and I think they left shortly after 9:30pm. They went to Melissa's house and watched the TV show, 'Brothers and Sisters' & had a much better time.
Joyce said that she felt quite overdressed at that party. Lots of skin being shown by some of the high school girls there. I know I've never seen a woman fire fighter dressed in short-short hot pants... One girl had a pair of rabbit ears on her head and the rest of her costume, Joyce said, was basically skimpy lingerie, with the bottom half of her butt cheeks hanging out. Sweet. There's a proud parental moment in the making. And I know her parents. I'm guessing they didn't know about her costume. I'm proud of my girl... she knows the difference between sexy and skanky.
All in all, a very good Halloween.
Now I just have to figure out what to do with the 10 bags of candy I bought... because we sure don't need them here at home. I thought the trunk or treating meant we also handed out candy... but no... so it's all sitting here on the counter with the haul that Sammy made. The kids would
love
to keep it
all
, but that is far too much teeth-rotting, butt-enlarging, sugar-high-making, non-nutritional crap for one household of 4 people.