I like to cook, but sometimes ya just wanna get dinner on the table... this venison chili recipe is one way to do that quickly & easily. The hardest part is opening all the cans.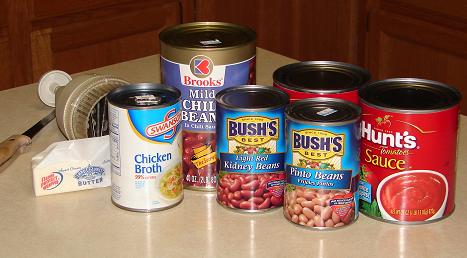 Just fry up about 2 pounds of ground venison, and I use about a half stick of real butter to fry it since the venison meat is so lean. Depending on the dish I'm making, I may substitute water for the butter when frying up ground venison, but the butter is good with the chili. I also finely chop an onion and fry it with the meat, along with a good dose of chili powder... oh, and salt & pepper, too, 'course. I usually also put in some ground cumin, but my cumin bottle was empty today. I think cumin has been on the grocery list for a while...
Then I open all these cans... chili beans (have to go mild for the kiddos), pinto beans, light red kidney beans, tomato sauce & chicken broth. The chicken broth is the secret ingredient. When the meat is good & brown, I just dump it all in. That's pretty much it. Let it cook for a while, and it's dinnertime.
We usually garnish the bowl of chili with shredded sharp cheddar & some sour cream, with more chili powder. Kev also likes to put some of our homemade salsa on it, too.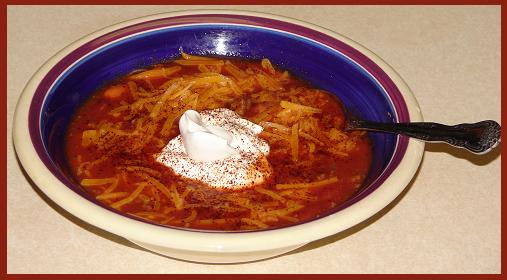 It was a good dinner... and the talk at the table was all about seeing no deer today at all. A very unusual first day of rifle season... to see not even one is pretty odd. I heard gunshots throughout the morning, so some hunters were having better luck. Our northern property line borders state-owned property, and that property always sees a few hunters, especially on Opening Day.
Sammy did pretty well, and he got about 3 hours of sleep after 8:30am. Joycie said she got most of her book read today. They all had a good time out in the woods, in spite of the absence of deer.