I was talking the other with someone about how long I have worked for the company that's my employer... from the time I started in my senior year in high school as a co-op (short for co-operative education work program, or something like that), I passed the 29-year mark this past June. Sounds like a helluva long time, doesn't it? Doesn't seem like it. Hmmm.
Anyway, that got me thinking back to my co-op days... and I remembered this one older guy, named Luke, who was such a nice guy. He retired not too long after I had started working there, and he died quite a few years after that.... which was a long time ago. Luke did a lot of things in the department where I worked; he was the problem-solver guy. He was always quick with a smile, and he had a ton of jokes. Good ones, funny ones. Not blasting anyone. Mostly the kind about husbands & wives or hunters & deer, good clean fun. Well, sometimes a little, teensy bit risqué. Think Reader's Digest. This was back in the days before e-mail. Yes, the Dark Ages. Luke had a hanging file full jokes, some that had been run through copy machines so many times, they were all dotted and smeared looking. Sometimes I'd sit in Luke's office and we'd drink a cup of coffee & hit the joke file. Good times.
Every Friday was Apple Fritter day, courtesy of Luke. He'd go to this local bakery and buy a bunch of fresh apple fritters... they were so good. Still warm and gooey, cinnamon and apples. Mmmm. That bakery is still around, but the old owners are long gone, and the apple fritters just aren't the same. At all.
Back then, anything was used as a reason to have a "goodie day," birthdays, new grandchildren, promotions, return from a long vacation, weddings, engagements, pregnancies, anything. We were a large department, but everyone knew everyone and any little thing could trigger a celebration. Goodie days meant everyone brought in treats. Except if it was your birthday, then you did not... everyone brought treats in for you & sang 'Happy Birthday' to you. Goodie days still occur at work, but with much, much less frequency. Just not healthy, you know. And usually no singing, either. Too busy for that.
Luke would often bring in his famous cheeseball. One day, I finally asked him for the recipe. He jotted down the ingredients on a piece of paper, and I still have it. Cream cheese, chipped beef or deli ham, green onions, Worcestershire sauce, grated cheddar. Put in as much as you want according to your own taste, mix it up, form a ball and roll it and pat it in chopped walnuts.
Guess what I made.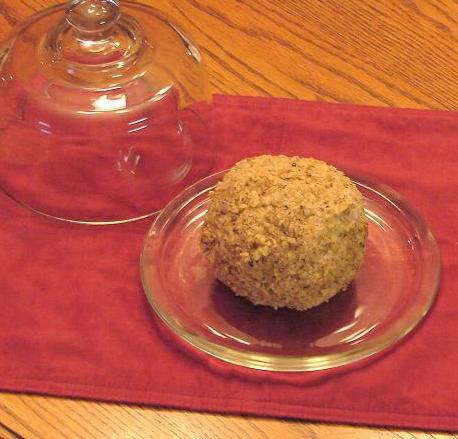 Yum!