I received this postcard in the mail today: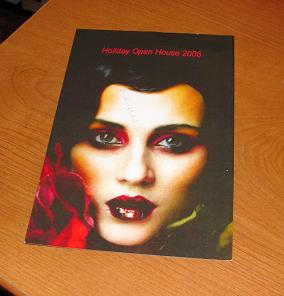 It is announcing the Holiday Open House 2006 being held by the salon I frequent. The owner of the salon has been cutting my hair longer than she's owned the salon... for about 20 years now. She is a very skilled stylist, or whatever the term is now. I knew her back when she worked in a salon, moved to another, then to another as co-owner and now to this salon of which she's the sole owner. It's an Aveda salon & spa. Since she's went with Aveda when she opened her shop, she's gotten more and more pricey. It's a very high end salon. Aveda has great products, but they are kind of expensive. Everything there is a bit on the expensive side, all the services and products. I'd switch to another salon, except for the fact that no one else can cut my hair as well as this salon owner. I know, I've tried.
The open houses she holds for the holiday season are quite the events. I missed it last year, but I heard all about it. A chocolate fountain. Bubbly. Nice little edibles. Sale on products. Free mini services (think hand massage or scalp massage). Nice. And it's a very classy event, very fasionably put together.
I'm sure this postcard is supposed to represent high end, cutting edge fashion. But it gave me the heebie-jeebies.
Happy Holidays, Let Me Suck Your Blood.