I am lovin' this weather this afternoon. It's totally overcast, so the sky is a beautiful shade of gray. There is a slight breeze, and it must be at least 62 degrees. It's perfect working-outside-weather.
I got all the plants in the ground... not so pretty now, but you just wait until next spring.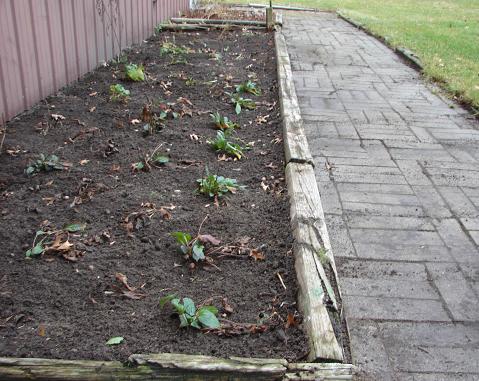 After that little job, I started working on getting the rest of the leaves out of the plants in my herb garden, and I wanted to cut some of the plants back, too. Then I had a
brilliant
idea. I got the push mower out and mowed my herb garden. Why in the hell have I been cutting all those plants back by hand for all these years???... With the push mower, I was done in 10 minutes. Brilliant! Well, it would have been had I remembered we have a bagger for that mower. Next year. And probably more brilliant if I had thought of it, oh, 15 or 20 years ago.
Anyway...
All is ready for winter now.
Update: As soon as I published this post, I realized that I forgot to rake the leaves out of my rue plants. I have one big circle of rue in my herb garden and a small hedge near the herb garden, next to my small rock garden. If I don't get those leaves out, then the plants do ok, but the centers are ugly... So I put back on my old, dirty sneakers & my dirty leather gloves and headed back outside. Before I got out to the pole barn, I could hear thunder. It didn't start raining until I was half-way through the job, but then it poured. I didn't hear any more thunder so I finished in the rain. Soaked to the skin, but I got it all done. Felt good, you know...