Today is Sammy's 12th birthday... Happy Birthday, my sweet boy!
We had a family birthday party for him last night, because a couple of folks would not have been able to make it today. Weekends are busy times...
The last few years, Sam was very picky about the "theme" for his birthday and wanted to choose the plates, etc., and he also wanted a cake from a bakery, which he wanted to choose also. This year, he was a bit more flexible... Recently, his favorite colors are orange and blue, so I decided to surprise him with that as a "theme" for his party... orange & blue. He was happy with it. I also made & decorated his birthday cake myself, and he was also happy with that.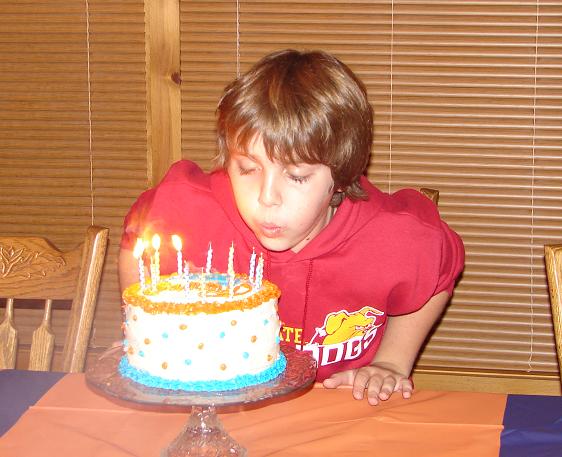 It's nice to know he's growing up & out of his picky, picky ways. I'm still trying to come to terms with the fact that my baby boy is 12 years old now.
Kevin has been able to come to terms with Sam's age easily... Turning 12 is a kind of milestone in our family. Kev gave Sammy the same kind of gift that he gave Joyce when she turned 12 years old. Kevin & I don't usually go and buy gifts separately for the kids on their birthdays, just every once in a while... like this year...
Lately Sam has been into the "Warrior" cats books, since I had given him the first series of 6 books in paperback. When he wanted the 2nd series because he couldn't wait to start reading them, I bought them for him in hardcover... because he wanted all 6 books to be a "set" and some of them are not yet available in paperback (the last book isn't out until Dec., and we have it on order at Barnes & Noble... since summertime). I told him that the one hundred or so dollars I was spending on those books was part of his birthday gift. I've been reminding him of that for weeks and weeks. So yesterday I picked up a couple of cheesey Lizzie McGuire paperbacks and wrapped them up for Sam... the expression on Sam's face when he opened that gift was very interesting. And funny. I then explained that those books
represented
a gift he had already received from me, and I explained it all to the family. I had been telling Sam I was going to wrap those Warrior cats hardcover books up for his birthday, and I think he was happy to see that I had not done that... yeah, like I was going to forget spending that much money on books just for fun. And you just know, he's gonna read those Lizzie books. Ha!
I also gave him another gift just from me. When Sam and I went to the mall to the Finish Line to get him a new pair of basketball shoes (Nike size 12!), they had a new pair of Nike shoes just out... very colorful. Very eye-catching. Did I mention one of Sam's favorite colors is orange? So I had him try a pair on and after 3 pairs, we got the right size. I made him wait until his birthday, and those I did wrap for him to open.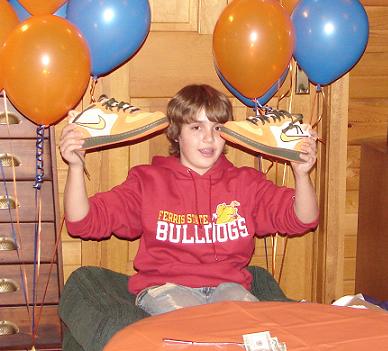 Tangent:
Those Nike shoes fit him in a size 10.5... same brand, though different style of shoes, one size 12 and one size 10.5... Remember when you would wear a particular shoe size, and you could go anywhere and ask to try on
that size
??? Ah... the good ol' days.
Back to Kevin's Important Gift for his 12-year-old son... Kev's conversation with Sam this morning after Kev came in from bowhunting describes it best. Kev explained how this big 6-point buck came near, and the buck had basically 2 choices of which way to go... one leading toward Kev and the other away. The buck chose the wrong way, as Kev put it (though I think the buck would disagree). Then Kev said, "But if I had had your rifle with me, Sammy, which way he went wouldn't have mattered. Your rifle. Doesn't sound good? Now you own your own rifle. Your first hunting gun. How's it feel?" Sam replied, with a big smile, "It feels good, Dad."