We had a wonderful Christmas. Most of the family came over for Christmas dinner and then the kiddos got presents, then the adults had our annual fun-filled Chinese auction. The food was wonderful, mostly thanks to my sister, Kathy, who provided the bulk of our dinner, including the turkey. I made Swedish meatballs, another family tradition at Christmas. The only thing that could have made it better was if the whole family could have been here (we missed the Miller part of the clan!). Oh, and snow would have been nice...
For once, Kev and I were up & awake before Joyce & Sam. That seemed a little strange. We had a nice, relaxing morning opening our presents together.
Even Reilly had fun. He loved his "Heave a Beaver" toy.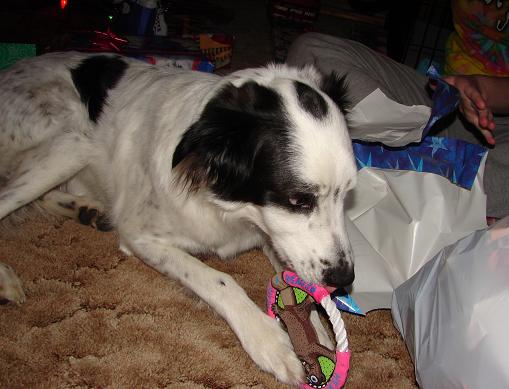 Joycie seemed happy enough with her haul.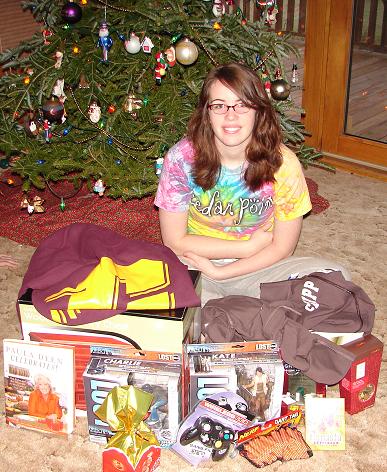 While Sammy was beyond thrilled with his new cell phone. I sure had him fooled... he was convinced he wasn't going to get one.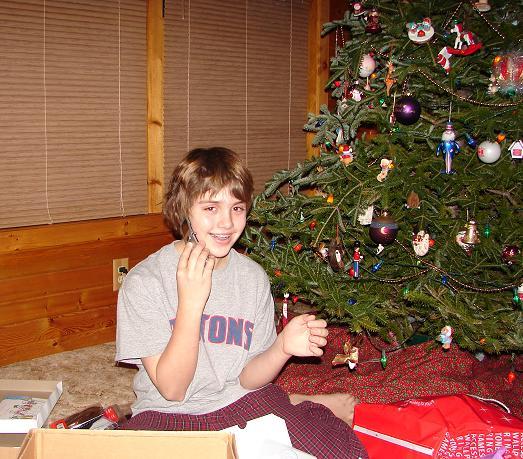 After dinner, we all ended up sprawled in various places in the living room, with Michelle, Michael & Joycie claiming the sofa and, having stuffed their bellies, then stuffed their noses into their books.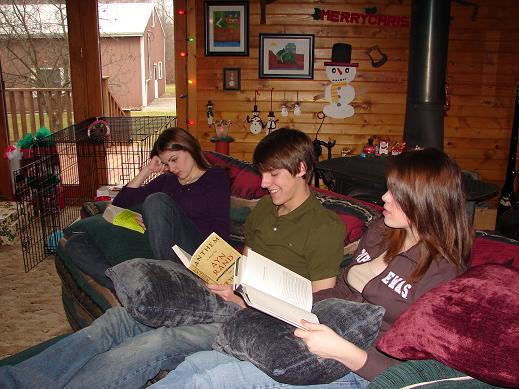 While a few other family members took their hands to their crochet. This is my niece, Alana, whipping out another crochet masterpiece. With her are Jim Sr., Jim Jr. & Jim III. Our 3 Jims.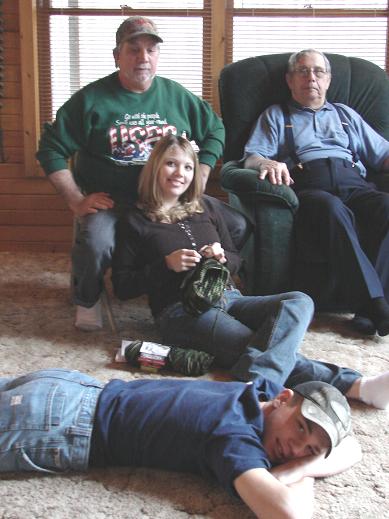 The part I was happily anxious about was giving everyone their gifts from me. I took the old photographs of my folks on their wedding day and of Dad in his Army uniform, scanned them and had 8 x 10s printed, and then I framed them all to give a set to everyone. Considering the original photos are well over 50 years old, the prints turned out really nice. Everyone was happy to get them.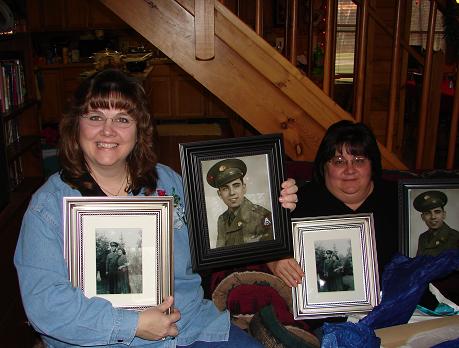 Getting Joycie's graduation photos framed and hung up on the walls... & not procrastinating on that, has got me in gear to get to the framing and hanging I've been planning to do for ages. I finally got a couple of pieces of artwork from Joycie's 8th grade year and from Sam's 5th grade year into frames and hung on the wall. I've intended to do that for years, & I bought frames for it about 3 years ago... so I hauled out the frames and chose 2 pieces from each of my kids & got them done. They look so nice. I want to get a couple more framed & hung... it was really difficult to choose only 2 from each of them. Will have to post a photo sometime soon.
Christmas came and went too fast... so much to get ready for it, and it's always over too soon. We will de-decorate tomorrow, and then it will truly be over... *sigh* But we've decided to have a New Year's Eve party. Yay! We're having an air hockey tournament this year, and we're going to do homemade pizzas. And, oh yeah, get a good buzz on!!!