Quite a change from
Wednesday afternoon
to today: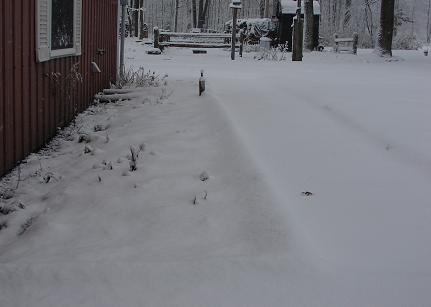 I love the snow, but unfortunately it started with sleet this morning, so the roads were icy. Kids got the day off from school, so they were happy. I didn't even try to get into work on time... I waited until daylight and for the traffic to clear a bit. I saw 4 cars off the road in the ditches on the way to work, one with a wrecker and another with a sheriff car with it with all the lights on. Then an ambulance came up behind us, and it was cruising pretty fast. It was difficult to get off to the side of the road and stop... and then get going again... so icy. Then I had to stop & get gas, and leaving the gas station, I nearly pulled out in front of a guy riding a bicycle. Freaked me out. He sure looked cold.
It was snowing big, fat flakes by noon, and my wonderful boss came around and said we could leave anytime if we lived out of town. That was nice, because the drive home was ok, but I would rather drive it in less traffic.
The snow is so wet and heavy, and the tree branches are starting to droop with the weight. It sure is pretty! And 2 days ago this view was of green grass & I was outside in shirtsleeves. I love living in Michigan!