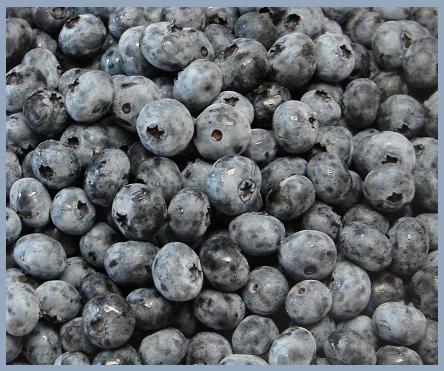 Joycie and I braved the heat and humidity yesterday morning and picked blueberries. There's a U-Pick farm about a mile away. The berries are big and sweet and perfect. We spent less than an hour on just 2 bushes, not even finishing the 2nd bush, got dripping wet with sweat and filled both our buckets. Got about 15 pounds of berries, at just eighty-nine cents per pound. Love 'em. They taste
soooo
good and crisp and sweet. This farm is open only on Tuesdays, Thursdays and Saturdays, so Joycie and Sam are going to go this week and get more, and we'll keep going back for small picking trips until the season is over. Hopefully getting lots and lots of berries in the freezer. This Tuesday, though, it's supposed to get up to close to 100 degrees F., which will feel like a lot more with the high humidity... if that heat starts early in the day, the kids won't be picking.
When we got to the farm to pick, there was an older guy there with a big van. He had transported about 8 or 9 Amish women and girls. They were all dressed in long, dark dresses, with long sleeves, as is their way, with dark socks or tights and dark shoes and their white hats. I cannot imagine standing out in that heat and sun in that gear, picking berries for hours. When we left, they were still there, and I noticed one young girl, probably 14 or 15 years old, had taken off her socks and shoes. She looked adorable and old-fashioned picking blueberries off a bush taller than she was, standing there barefoot in a long dress about the same color as the berries... I wanted so badly to snap a quick photo with my cell, but... I couldn't bring myself to do it, and I know she wouldn't have agreed (or her mother wouldn't).
So now some catch up...
Kev is working midnights again. He's sleeping in the house this weekend, instead out in his "midnights bedroom" in the pole barn. It's not too hot in the pole barn, but it's warm, so it's more comfortable sleeping in the house. Which means, we are tip-toeing around this weekend... difficult to get much of anything done.
My sister, Janet, has her grandson, Rogan, and her soon-to-be step-grandson, Austin, up with her until Tuesday. Sammy went with them Friday, and I pretty much haven't seen him since. He came home to get clothes and some books to read to the boys (Rogan is 4 and Austin is 5), and the 3 of them slept out in Bob and Janet's camper (trailer), with the air on, and Sammy read books to Rogan and Austin. They stopped by yesterday early evening, after they went swimming, for Sammy to get more clothes and more books. He is having a blast, and he loves his little cousins. (Second-cousins, to be accurate.)
After blueberry picking yesterday, I talked Joycie into going into my office with me. I got her to do some filing, while I got more stuff done. I'm really kicking ass at a couple of projects lately, and it feels so good to get that crap done.
We picked up some DVD's and pizza on the way home, called Joycie's friend, Allison, and had a nice evening. Allison got back from her trip to Australia and New Zealand this past Wednesday, so it was nice to see her and talk with her about her trip.
We watched the movie, "She's the Man," and it's worth a watch. I thought it was going to be too silly to stand, but it was surprisingly enjoyable.
This past Wednesday, Joycie and I hosted a "lia sophia" jewelry party. One of my friends at work, Becky, is selling now, and we went to another friend's party. Joycie started picking out all these pieces... It's really worthwhile to host your own party with a list like hers. We invited over 30 women, and actually had 5 show up... whoo hoo! From this party, Joyce chose $425 worth of jewelry that we, I mean I... I paid a little less than $133 for it all. Very nice. It is nice jewelry, well made and with an outstanding guarantee. And... it was fun. Joycie is happy, and I just love making my girl happy.
My happy girl went out in this heat Thursday and worked on my rock garden for me, cleaning out leaves and weeding. Such a nice surprise. What a doll.
In other news... (what a long post, huh)
Last weekend, my nephew, James (aka Jimmy) was up. He was up helping to clean things up after the storm, and he worked on mowing trails with my folks' brush mower. James is 16 years old, and the hardest working young man you could imagine. He's all muscle, and knows how to use 'em. He drove his brand-new-to-him silver pickup with his brand-new-to-him Honda 4-wheeler up, and he looked good with both!
Since Kev and Sam were gone for the weekend on their Michigan Adventures and Whitecaps ballgame weekend, Joycie and I took Jimmy with us out to dinner on Saturday. We went to Damon's and sat in the clubhouse. James gets out a lot... to the woods for hunting and fishing trips, but not so much to cities and towns. It was his first time at a Damon's, and the huge TV's and speaker at the table were quite the novelty. It was such a fun evening. Jimmy had lots of funny stories. I enjoyed his company so much. I hope he comes up again this summer, so Sammy can spend more time with him. Sam was torn... he was very excited about his weekend away with his dad, but knowing he was missing out on Jimmy's company made him kinda wish he was home, too...
I've managed to drink a full pot of coffee while typing this post. So... guess it's time to go use my beautiful coffee scoop again and make another pot...