My computer sits on a desk facing the windows on the south wall of our dining room. Since we live in the woods, at night, it's very dark outside... we have no street lights or lit up buildings or traffic lights or vehicles with their lights on driving by to lessen the night's blackness. Just the moon and the stars, and if it's a cloudy night, like tonight, not much from them.
We do have a mercury light (a yard light). It's a large light that sits atop a 25-foot post. It has a sensor, so it comes on automatically when it begins to get dark, and it shuts off in the morning. It's very bright and lights up a great deal of our yard. It's located north of the house, though, so it doesn't reach anywhere near my south-facing window view. The house blocks the light.
I can see the outline of trees and the shrubs near the house. We have a very tall purple-leafed smokebush right near the window. Usually smokebushes get large and very round, very... um, bushy. But this one just shot up straight and skinny. It must be about 20 feet tall now, or more. It's begun to encroach on the side steps leading up to the porch, but I don't care. I love this smokebush, and no one is going to trim it.
So tonight I am sitting at my computer, just cruising through some web sites, listening to a CD mix that Joyce made for me... the kids are watching TV & Kev's at work on a midnight shift. I see a light out the window, just a quick blink. I think it's a car coming up our drive. Since our driveway is not at all straight, I figure the headlights are just getting blacked out by the trees and ferns. I see the light again and again, but it's not getting any larger. What the heck... Then I realize, I've been sitting there watching a firefly flit around the smokebush.
So I spent about 20 very zen minutes just enjoying watching the little guy and listening to my music mix that Joyce made for me... until he finally flit out of sight.
This is the compliation Joyce came up with for me recently, and I love it.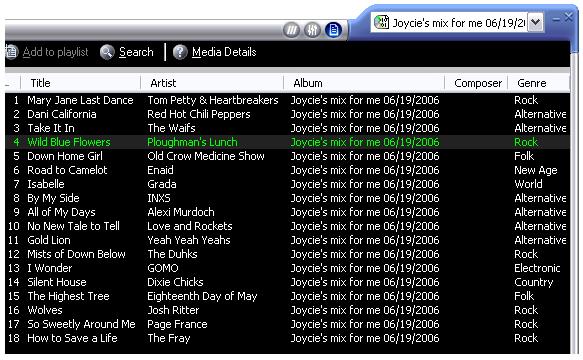 My favorites are 'Wild Blue Flowers' and 'The Highest Tree'. Love 'em.
These are the lyrics to 'Wild Blue Flowers', as I hear them, anyway... no guarantee to correctness.
Found me a home in the plants and stones
the rain and snow
the flesh and bone
found a home between heaven and hell
I found a voice I could always tell
when you're down in the dirt
with the rain and the earth
and the wild blue flowers
well I love the ground she walks upon
I love the ground she walks upon

Banshee's bones and the singing stones
the mirror of a simple soul
the glory of a golden sky
the mystery of eternal light
down in the dirt
with the rain and the earth
and the wild blue flowers
I love the ground she walks upon
I love the ground she walks upon

Found me a home in a circle of stones
the mother of all charms
someone else's arms
found a home between heaven and hell
I found a voice I can always tell
down in the dirt
with the rain and earth
and the wild blue flowers
I love the ground she walks upon
I love the ground she walks upon
The guy singing on 'Wild Blue Flowers' has an Irish accent (or similar) and a wonderful voice, one that makes you go Mmmmmmm... and when he sings, at the start of the song, 'the rain and snow' he really rolls the R in rain... I think I have a crush on him.
Here are the lyrics to 'The Highest Tree', as near as I can figure... the woman singing also has an Irish brogue thing going, and a beautiful voice. I don't have all the words... some I just cannot understand, nor can I come up with words I think are apt to the line and sound like what she's singing...
When first you came to me
my father had promised me away
I swore to love you still
until my dying day
Foreswore and I led you on
and hoped that mild man could never know that
I loved you long and then sent you away.

You heeded not my words and from my bedside
would you take your leave and you said to me I would not
him to see ??
For if I had loved you I have not nothing in this
lonely world and I would not live to see another day

I pleaded long to you my dear they'll hang you from the
highest tree and you would not move, you listened not to me
Soon in my father came along with he that I was promised to
and when they saw you I tried to take the blame
My father held me fast while my betrothed with his better strength
took you to the floor and down he staggered too

Scarce he could make a sound
before that dagger cut your throat and too ? and
he murdered you before he really knew

I cried and tore my hands and hair
I was as one in great despair
when they took their leave
again I clung to you
Lay ? your body
now the blessed body that I did adore
and I weep to know I'll see it never more
Joyce tried to help me figure out the lyrics, and still between the two of us, there are gaps. Joycie said, as if surprised, this song is really sad. She had liked the song a lot, just like I did, from the first time hearing it. I had to listen to it several times to figure out the story. Now, we both like the song even more.