Because we have had such a rainy spring, quite a few of Sammy's baseball games were cancelled. Last night, we had a regular game and a makeup game immediately afterwards. Playing a double-header that starts at 6:30pm makes for a long night.
The boys won both of the games, and they were real happy to play under the lights. And it was especially special coz as it turns out, that was their last 2 games of the season. This is Sammy at bat at about 10:00pm or so.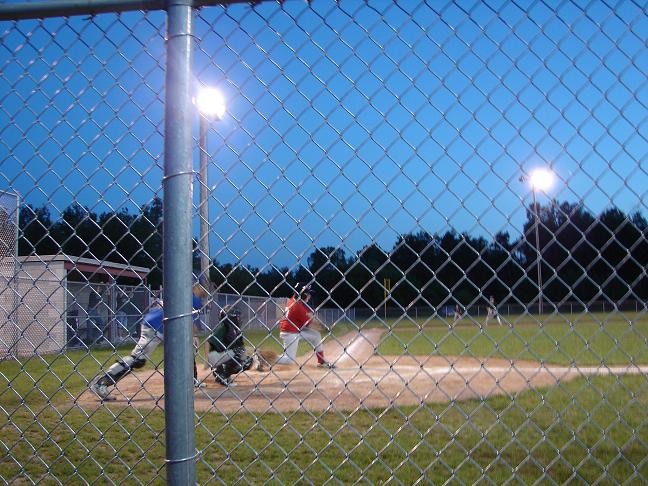 Kevin had to leave for work before the last game was done, since he's still on midnights. The game finished about 11:30pm. When Sammy got into the car for the drive home, it was like someone putting a hole in a full balloon... from excited and energized to sore and tired in 0.2 seconds. We all 3 were tired. I convinced Joycie to drive home so that I didn't have to. (Hey, she's got way more energy than me... and her eyesight is better.)
By the time we got home and my stinky, sweaty boy had a shower, it was well past midnight before we all hit the sack.
At which point my previous state of bone-aching, eye-drooping tiredness disappeared. ARGHH!
For some reason, when Kev started his recent midnight shift by working a 12-hour midnight last Friday evening, then 2 more midnight-12's Saturday and Sunday, I have been unable to settle down and sleep. I usually have no problem when he is gone through the night on his midnight shift. I don't know what caused it, but Friday night I was feeling anxious and jumpy. Every sound made my ears perk up. Each time the dogs barked or any other animal made a sound. Wind noises. Tree noises. Bumps, bangs, creaks. My trusty Tylenol PM didn't even help. I was awake pretty much through the night. Up and checking things out. I must have made sure the front door was locked about 3 times. Ugh. Then I got up pretty early Saturday morning... and though I was very tired Saturday night... I couldn't settle down. Same story Sunday night.
I feel that I'm well used to Kev's shifts by now, and Lord knows, I had years of handling him being gone through night when he worked swing shift before. Years and years. With a newborn daughter no less. Early in our marriage when we first moved out to our property, with no phone and no electricity (and this was way before the days of cell phones). No problemo. Have loaded shotgun, will sleep.
Our home is well back into the woods, so we're pretty secluded. And living off what is essentially a dead-end dirt road, one that turns into 2-tracker in the middle of nowhere, with our closest neighbor nearly a half-mile away... we've had plenty of idiots and freaks, both sober and drunk, who show up at our front door through the years, after they
got stuck out back
. Even so, I'm rarely unnerved to be alone, or rather,
without Kevin
, through the night.
But for some reason, for the past 4 nights, I've been unable to settle down and sleep. After my alarm went off yesterday morning at 5:30am, then,
then
I could sleep. I was a half-hour late to work (and frankly was astonished it was only that). This morning, again, alarm goes off, I snooze. Woke with a start at about 8:30am. By now, though, I feel so sleep deprived that I feel shaky and sick, like a bad hangover... I called into work and told my boss I was taking the day off. My plans for the day: a very long afternoon nap, preferably on the hammock on the front porch (if the stinkin' mosquitos will let me). We have no plans or commitments for this evening, and it's a good thing. My brain is mush.