Earlier this year, the parents of a friend of Sammy's asked if we would be interested in sending Sammy to a summer camp for a week with their son, Jake. We looked at the SpringHill web site and talked it over with Sam, who took about, um, 2 seconds to say YES, PLEASE, YES. A couple of weeks ago, he made a Countdown to SpringHill and posted it on the refrigerator. This is what it looked like this past Saturday.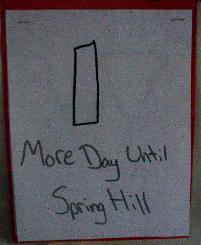 We took him there on Sunday, meeting up with Jake and his family. This is what his countdown looked like when we got home.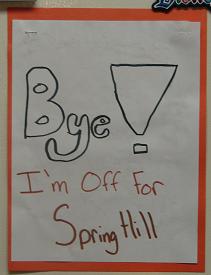 I know for a fact that I'm missing that boy way more than he is missing me! Reilly is missing him, too. Sammy can get e-mails from us (printed and delivered to him) and regular post, as well. But we won't hear from him. *sniff*sniff* I've sent him an e-mail each day, and Reilly sent him a copy of his
flyer
.
We go to pick him up at noon on Friday, and I can't wait.
-----------
We celebrated Father's Day rather quickly on Sunday. We went in on a gift with my sister, Kathy, and her family to give our Dad a really cool 14-gallon plastic gasoline container, on wheels & with a pump. It's awesome, and Dad seemed happy with it. You'll have to trust me on that because every single photo I took of Dad opening his gift and then with his gift is blurry.
Kev liked his gifts... we finally caved and got him a George Foreman grill, along with some nice utensils for it. Kevin, Joycie & I stopped on the way home from dropping Sammy off at SpringHill and picked up some steaks so Kev could try out his new present. Yummy. (Kev is happy with it... he's smiling inside,
really
.)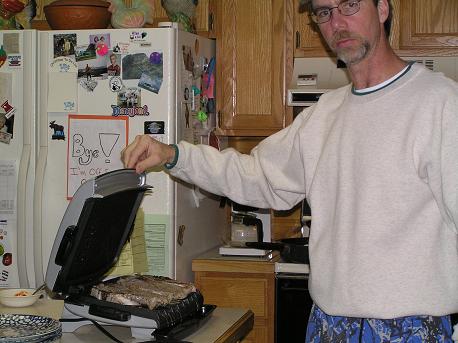 -----------
Joycie decided to try being a redhead for a while. I picked up some of that L'Oreal stuff that lasts for about 8 to 10 washings. First one we tried was too bright, and then we tried one that turned her hair auburn-ish... anyway, more the color she wanted.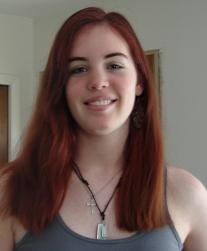 I like it on her. It goes well with her complexion. But I want her normal hair color back for senior photos in mid-August. After that, she can do anything she wants with her hair.
-----------
I took yesterday off from work, and Kev, Joycie & I spent a couple of hours weeding in the garden. Kev ran the tiller. It sure looks nice now. Everything is coming up pretty well. Except for the potatoes... but since we have a bunch of volunteers coming up from all the potatoes we didn't fully harvest last year, we are assured of being able to eat new potatoes out of the garden.
Then we came home and made 17 batches of strawberry freezer jam. My arm hurts from stirring. Good jam, though!
-----------
I've mentioned
before
how my beautiful Le Sabre was crunched Big Time, & how it has never been the same since, of course. Rattles and wheezes and wind noises. As expected. Also never the same: my neck. Every once in a while, for no discernable reason, my neck hurts Very Much. As in medication strongly required. I'm now going through one of these mysterious phases of Neck Pain. It sucks. Grrrr......
-----------
Joycie took a walk today with my camera, and took this lovely picture of blue-eyed grass (Sisyrinchium angustifolium). I have always loved this wildflower. I remember as a kid picking it and learning quickly that it lasts about 15 minutes in a vase. We have never had a bunch of it, just one here, one there. Single little grass stems with beautiful miniature flowers on the end.

-----------
And last, but by no means least, a message to my best friend, Sandy, because I know she reads my blog and she, like all of us, could use a moment to know how wonderful she is and how loved she is...
I love you, Sandy, and I always will. You are one of the most beautiful women I know, not just because you are lovely to look at, but because your beauty comes from the inside. You are smart, capable, kind, thoughtful and loving. I am very lucky to be able to call you my friend... my best girlfriend for so many, many years now. You are the sister of my heart.