Yesterday afternoon, Joycie called me at work and told me that her friend, Allison, had 4 tickets to see the Broadway musical "
Wicked
" at the
Masonic Temple Theater
in Detroit, and we could go if we wanted. Free tickets. Um... yeah!
Allison, Joycie, Sammy and I booked on down to Detroit for the 8pm show. The drive down was pretty smooth, and we found the theater easily. We got there quite early, so we hung around outside with the rest of the early arrivals, looking at the beautiful building. And all the people. I took some photos with my cell phone. Pretty crappy quality, but fun nonetheless.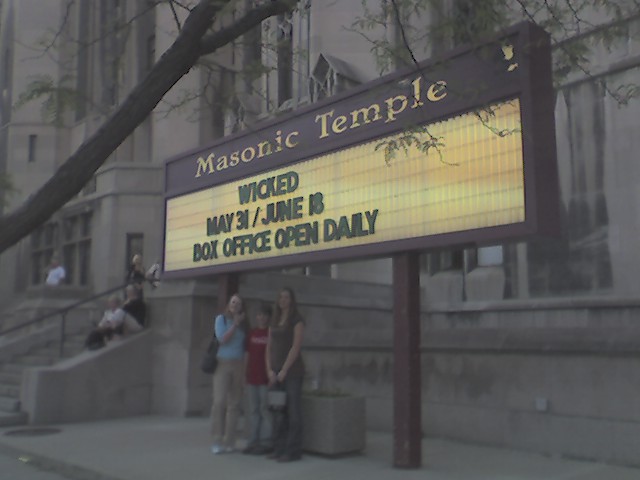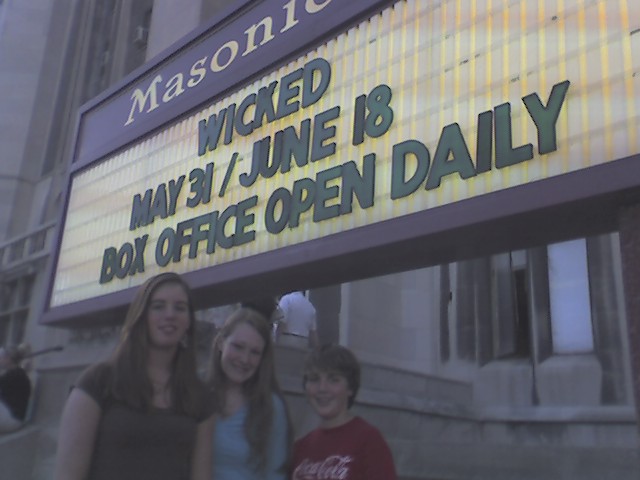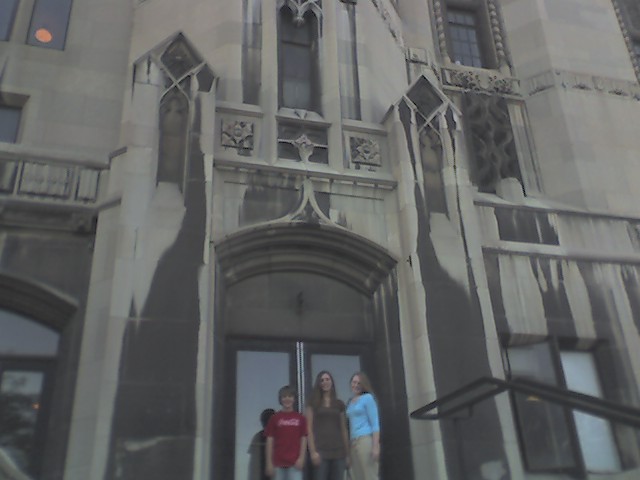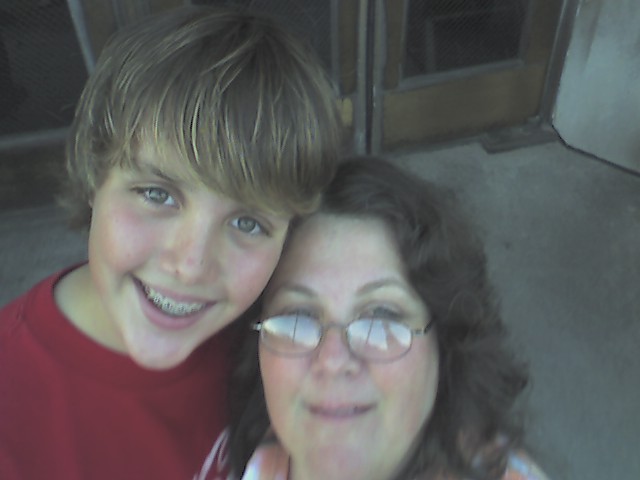 Then we finally got to be seated, and inside the theater is so beautiful... I wish I could have taken a camera inside with us. It's very old, lots of marble and dark wood, red velvet seats. Very ornate. Perfect setting for "Wicked." I tried to take a photo with my phone, but it was just too dark. The stage had a large dragon on the top, mostly just the face of a dragon (and it moved during the play), and I would have liked to at least get a photo of that... It was cool.
I got a photo of Sammy downstairs in the Fountain Ballroom where they were serving refreshments. It's a huge room, and it was mostly empty, even though there were a lot of people in there. Sam wore his Heelys, and he had a fun time on that big floor. Surprisingly, no one bitched him out for wheeling through the place. One of the women working there even said something like, "I think we all could use shoes like that."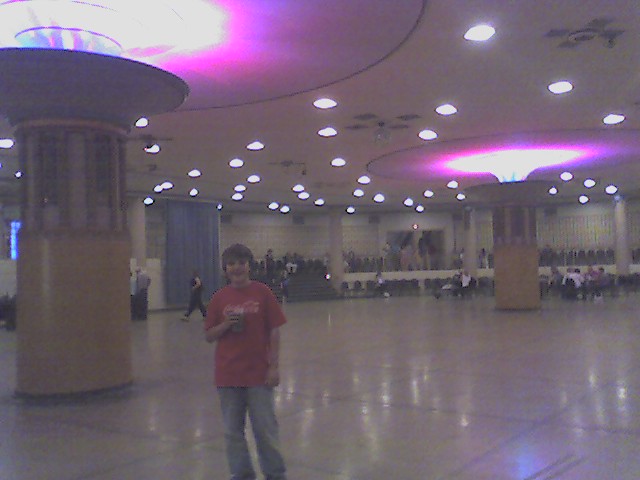 Then the play started. It was so wonderful. We all four of us loved it. The singing and the orchestra were outstanding. The costumes, the sets, the lights, everything was so awesome. The story was excellent, and at times, truly funny. It's billed as "the untold story of the witches of Oz." It was great. Just great.
When we left the theatre last night, the traffic was, as expected, pretty horrible. I had all my directions and maps on how to get there... but I didn't plan a route back home. So I just crossed my fingers and backtracked. Usually works... not always, though, and it was late enough at night, that I was praying the whole time we were stuck in this slow moving bumper-to-bumper incredibly long line of traffic. It took a very long time, but we eventually easily got back onto I-75 heading north. Whew. It was a more quiet drive home than our lively drive down. All 4 of us were in great moods then, cracking jokes and laughing. We had a long discussion about cannibalism, which somehow included many funny song references. Funny songs were a theme of the drive. Something about butterflies eating butter pecan pie, and how that constitutes a form of cannibalism. Very funny at the time. When we were getting closer to Detroit, I announced how badly I had to pee. My 11-year-old son said, "then don't think of water, Mom, don't think of waterfalls, cool, running water, rushing river water, water pouring out of a pitcher, water... water... water..." Evil boy.
On the way home, Allison and I talked for a bit, but Joycie and Sammy were quiet. Sam slept. I put the cruise on 75 mph and pretty much didn't have to touch it again until we got to our hometown. Where all awoke & we promptly found the open Taco Bell and hit the drive-thru.
Joycie bought the book, "Wicked" today at B&N, along with Gregory Maquire's sequel to it, "Son of a Witch." She also checked out 3 or 4 more of his books at the library. Really, that guy has an incredible imagination. The number of times I've seen "The Wizard of Oz," and not once did I ever wonder why the Wicked Witch of the West was who she was, or why she was green, or if Glinda wasn't as good as she appeared.
I want to read his book, "Wicked," and I'm so glad we were able to go see the musical. What a night!