This past Saturday evening, my sister and brother-in-law, Janet & Bob, held Christmas at their house. This way, we all got to see Rogan, their grandson, and Susan, their No. 1 daughter & Rogan's momma, Stewart, Susan's fiance, Austin, Stewart's son, and Sara, Daughter No. 2, & her fiance, Derek. We won't see them on Christmas day, so it was super nice to get to spend our "Christmas" evening with them. Rogan made the most adorable little Santa.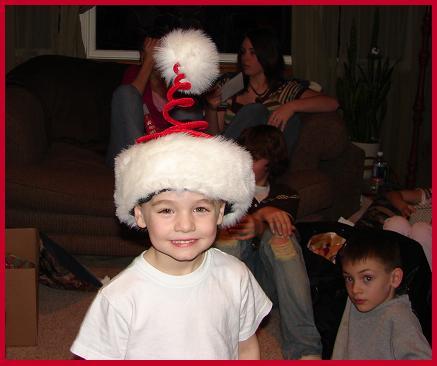 Janet made a ton of good food, and they had a houseful of people. It was really fun. The boys got way excited... people, food, cookies, camera flashes, lots of talking & laughing, and oh, yeah...
PRESENTS!
Kev had to leave the party and head into work for his 12-hour midnight shift. That sucked. One would think I would get used to his having to work this swing shift, but I just can't seem to do so... I wish he could take an early retirement. But the mortgage and Joycie's upcoming college fees scream an emphatic
No
. Ughhhh...
And speaking of "no"... seems like I spent most of the 2 days of our weekend telling the kiddos, primarily Sam, "no" and "shhhh" so that Kev wouldn't be disturbed. When he's sleeping on these weekend midnight shifts, it's like our world grinds to an almost-halt. It's amazing the things that turn out to be noisy. Especially in the hands of Sammy. Well, ok, that part isn't so amazing. Sam could make noise with a kleenex. In fact, he did. A lot.
I didn't get much done for home, no vacuuming or pounding in of nails... but I did get into a lot of the paperwork I brought home from the office. Nice quiet sh...stuff. I don't like doing work from my job at home, but on the other hand, I'm thankful I can be at home and still get some of that stuff done... so I don't have to be into the office so much on the weekends. Come to think of it, an early retirement for me would be nice, too... (like I don't think of
that
pretty much daily)
I did manage to watch a movie with Sammy. We got out my DVD, "Love Actually." One of my very favorite movies. I haven't let Sam watch it before, as it's R rated. But I let him this weekend (anything to keep him quiet!), and then when the first scene came on with the couple that does the stand-ins for the movie... ummm... I kinda sorta remembered why I hadn't let him watch it before. Pillow up, Sam, and cover your eyes, quick! Anyway, a great movie. Sammy liked it, too, in spite of the many pillow in the face moments.
Wrapping up the weekend... the best finale of Survivor
ever
. Yay for Yul! Cool that Ozzie won the car. And Becky... well, she must be gay. Not have a romantic thought about Yul? Yeah, right. I liked her, though. The tribal council where she & Sundra could not make fire was one of the most entertaining yet. We were all busting a gut when the jury started in with the yawning. Can you imagine trying to strike that flint over and over for an hour and half? Amazing they had any hand control or strength left to strike a match. Really good season. Be a hard one to top. The finale & reunion were both great and well worth feeling so darn tired this morning.