I think that we were already with Sammy trick-or-treating on Halloween night when he realized that we didn't carve any jack-o-lanterns... Truthfully, I didn't even think about it. Sam was not happy... "I can't believe we didn't carve pumpkins" was said about 3 or 4 times. Joycie & Sam did gather the pumpkins from Joycie's garden over at her grammpa & gramma's, but that was about as far as we got on 'em. I was not the only one to forget about carving pumpkins.
Joyce had set a few of the pumpkins at the base of a big oak tree with some corn stalks, also from her garden. I noticed the squirrels did some carving...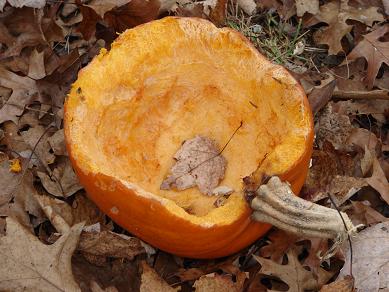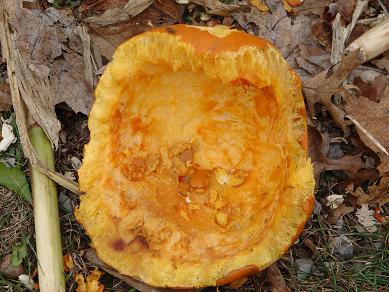 I know it was squirrels because I saw them in action. They love those pumpkins. I showed them to Sam and said, "See, pumpkins were carved here this year." Cue eye rolling.