November 1st. How in the heck did we get here so fast. Happy NaBloPoMo!
Back in late September or early October, Kev went to one of those dinners hosted by Whitetails Unltd. or NRA or Ducks Unltd. or something like that. He usually goes with our brother-in-law Bob, who almost always manages to win a gun of some kind. Once I think he won 2 rifles, or maybe 3! He's a lucky Bob. At this dinner, though, Bob wasn't so lucky & he didn't win a rifle, but our other brother-in-law Bob went and he won one. Kev has never won a rifle, but he's come home with some cool stuff. He won a Moultrie Game Spy i40 digital game camera with infrared flash at this dinner. It is awesome. Kev has set it up in the woods in a few different places, and it takes photos when it senses motion. When he brings a card in, we can't wait to see what photos are on it. (Yep, the things that pass for excitement around here.)
Here are some highlights so far. Another neat thing is that the camera captures temperature, moon phase, date & time, and those are listed at the bottom of each photo (though I haven't figured out what all the 5's are about). This is a photo from when Kev set the camera up just off the
field that's usually a small lake
in the back, looking back towards the house. Aren't these girls pretty?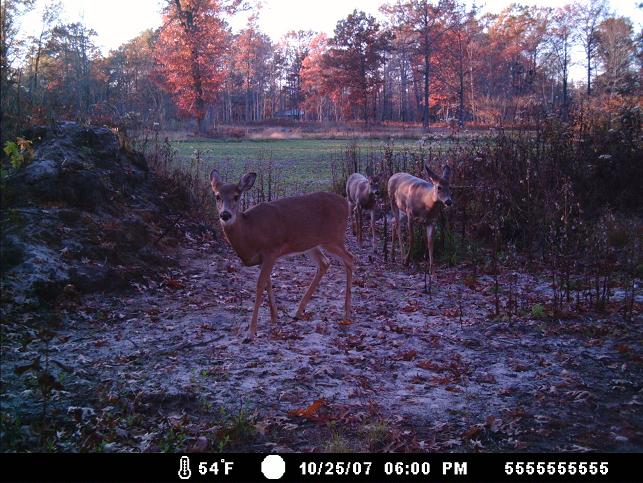 The nighttime photos are cool, and clearly the deer know the camera is there... some of the photos are kinda comical...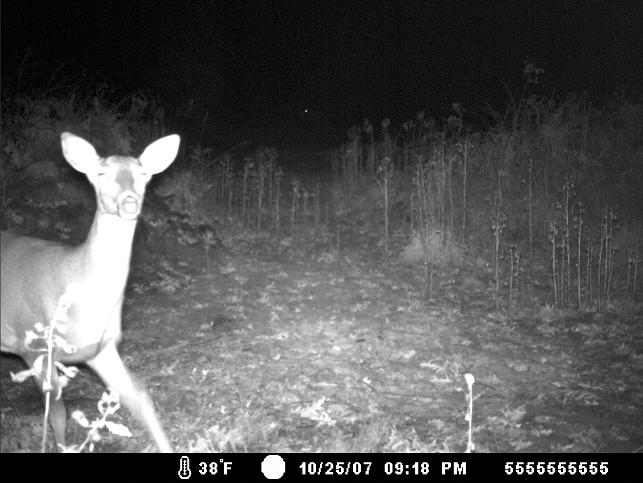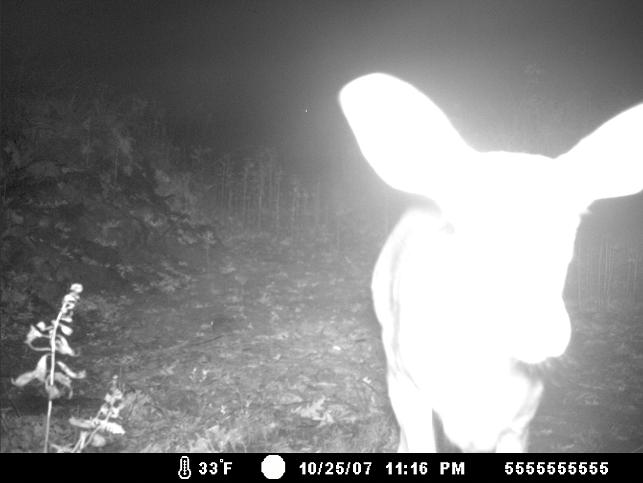 It was nice to see a couple of photos of bucks on the property, and this first one passes for a large set of antlers in this neck of the woods... we just don't get big antlers around our area much.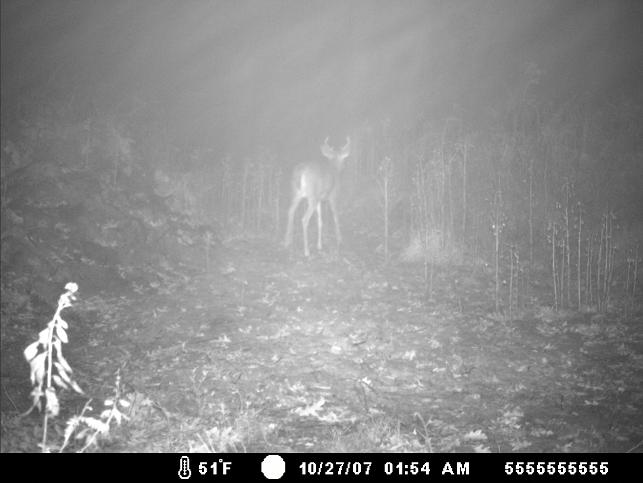 Spikes are more common.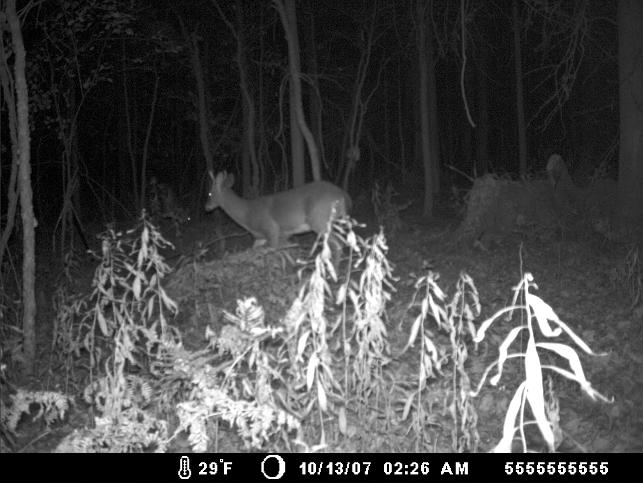 There are also quite a few photos of critters other than deer, like these wood ducks that landed on the pond out back...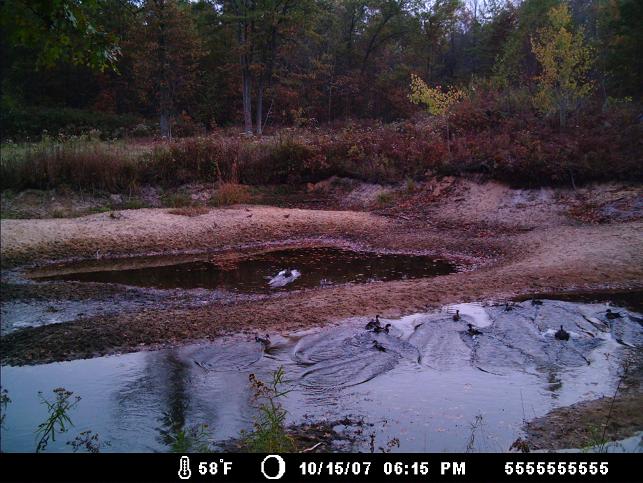 And these turkey hens...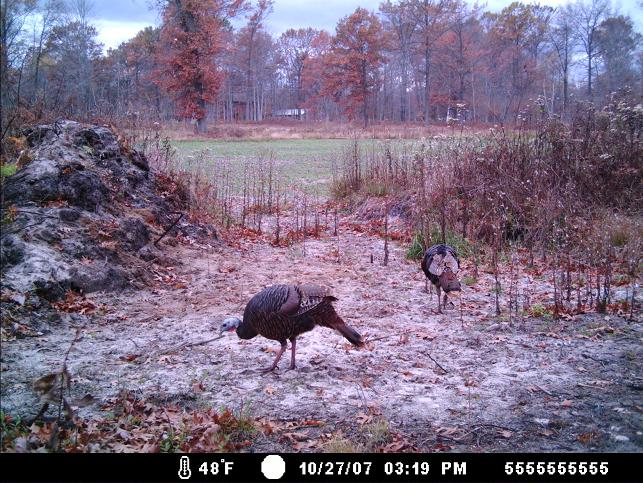 The quality of the photos is pretty darn good. I was surprised at how crisp and clear the photos are, even the nighttime photos. There are a lot of photos where the deer are moving, so they are a blur. The night photos that capture their glowing eyes are pretty cool...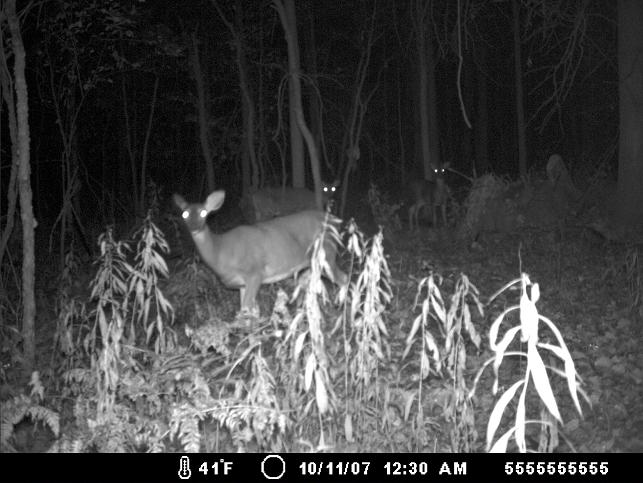 It took me a moment to figure out what this clump was; we have a few photos of him... a raccoon...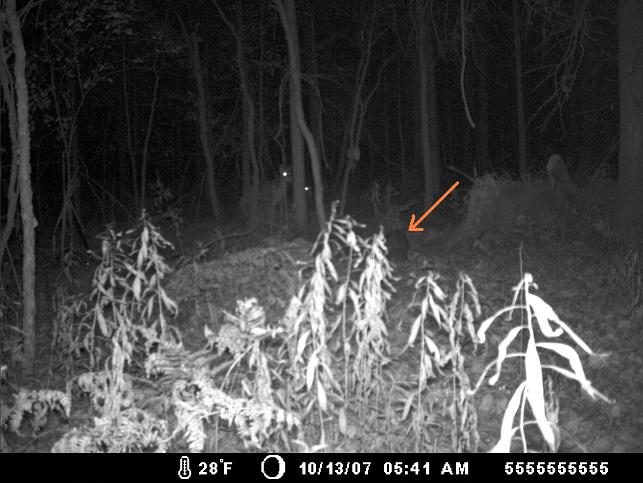 Better out there than on our porch!