Since my lovely sister, Kathy, is putting on the Thanksgiving dinner for the whole family today, I am sure she was up early stuffing the turkey. My contribution is baked ham. Easy breezy.
My favorite ham to buy is Amish Country Brand, boneless, hickory smoked & fully cooked. It doesn't taste smokey, just good, pure ham. I bought 2 whole hams, each about 9 pounds. It'll be too much ham, of course, but Thanksgiving dinner leftovers are the best.
I just got done going down into our basement to find my roasting pan to bake these fully cooked hams. Really, a few hours in the oven makes them super luscious.
So I set the roasting pan on my island counter, and I got the 2 hams out of the refrigerator. Already setting on the counter are a basket of napkins, a basket of paper plates (back from the days of attending domino-effect Longaberger parties), paper towels, a butter dish and a couple of other miscellaneous items. When I set the hams down, I knocked into the basket of napkins and then I heard something hit the floor.
The basket had knocked off a couple of small things. What landed on the floor was a little plastic container of slivered almonds and a fortune cookie. Joycie picked up Chinese food Monday, and Sammy always gets almond chicken, but he doesn't like almonds... so we always ask for them on the side (because Kev likes them), and they put them into a small plastic container. No one used the almonds this time, though. Fortunately, the container stayed closed as it landed on the kitchen floor. I picked up the almonds and the fortune cookie and went to toss them into the garbage... and it seemed like such a waste to not even read the fortune, so I popped opened the fortune cookie (we like to make the plastic go "pop" & the louder, the better, even at the restaurant) and broke it open... this is my fortune: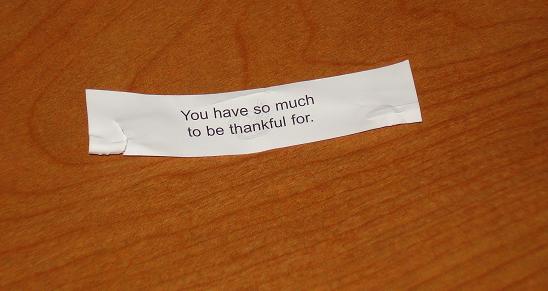 I smiled for the entire 5 minutes it took to get the hams in the oven.