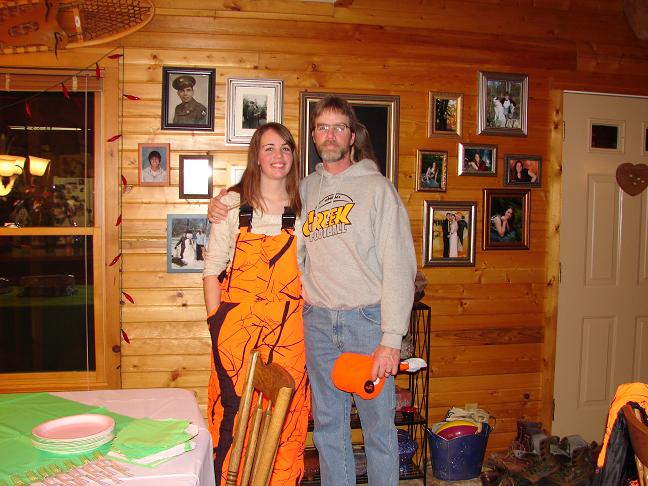 Our Joycie (aka Kevin, Jr.) is 19 today. My, oh my, how time flies.
Joycie was born on Saturday afternoon, close to 4pm, on November 26, 1988. My labor for her started very early Friday morning, and since I had pigged out big time at Thanksgiving dinner the day before, I wasn't positive at first it was labor pains. But, oh yes, indeed, it was. Contractions progressed slowly but steadily throughout the day. When they were about 8 minutes apart or so, Kev and I got in the car and headed into town. We arrived at the hospital close to 6pm. By the time we got there, contractions were about 3 minutes apart and very strong. We were settled into a room, and my contractions were about 2 minutes apart. I had
back labor
with Joycie. Soon my contractions were one minute apart, lasting for about one minute. This is what is known as hard labor or
active labor
. When I would have a contraction, Kevin would use this wooden massage tool to massage my lower back. (I still have it. Somewhere.) This went on for about 20 hours. They don't call it labor for nothin'.
Finally our baby girl was born. Our beautiful Joyce. 19 years ago today.
And if you followed that link describing active labor, you may have noticed that it states that the average active labor lasts 6 hours. Proving that Joycie is above-average from the get-go. That's my girl.
When she was very little, I nicknamed her my Pumpkin-Pie-O... because at Thanksgiving time my very favorite thing was always my Mom's pumpkin pie, but after Joycie was born, my favorite thing at Thanksgiving time is her, my Pumpkin-Pie-O. (When she was little, she loved to hear that story of her nickname over and over and over... by middle school, not so much... now, well, let's just say she tolerates it.)
Update: Kev, Sammy and I were going to drive over and see Joycie when she got out of class shortly after 7pm tonight. Kevin and Sammy just got home, and before they got here, I called Joycie... she had just gotten out of class... I told her we were thinking of visiting her, but she told me she has plans with 3 girlfriends... I'm glad. She will likely have more fun. I told her that her Daddy said that it just didn't seem right not to see our baby girl on her birthday. But we would live. When the boys got home, Sammy was standing in the kitchen and he said, "Man, I really wanted to see Joycie tonight. It just don't seem right, dawg." I said, "She made plans with friends, and we saw her all weekend. And don't call me dawg." I turned around and looked at him; he was standing there petting Reilly. He said, "I was talking to the dog, Mom." Oh.