I've been enjoying
Fussy's
daily shoe photos. NaBloPoMo is the brainchild of Fussy, and Miss Eden has also joined
NaBloShoeMo
, a public group on Flickr. I like seeing the photos of all those shoes, some are pretty wacky. Very entertaining.
I'm one of those shoe shoppers that will look at some pretty wild shoes, but I always hit the same shoe section time after time. Because yes, I'm a creature of habit, but also because I just love sneakers. Love, love, LOVE 'em. And I love that I am finally on a job at the company where I work where I can wear sneakers daily. I've been able to do so for about 5 years now, but I spent the first 25 years having to dress up for most it. By dress up, I'm talking heels and pantyhose. Spent a few years with business casual, which still on occasion required heels and pantyhose.
To put this in perspective, I would cheerfully go to my grave never having to wear heels or pantyhose again. That is the woman I've become, and I'm very happy about it.
For one thing, I have problems with my ankles, and at age 22 I had surgery on both of them where the sub-talor joints were fused with bone matter scraped off another portion of my ankle that grew abnormally large; this surgery necessary due to degenerative arthritis. Long scars on the outside of both feet, under the ankle bone bumps. After 25 years, those scars are still very sensitive. Do Not Touch. Through the years, I've learned that the most comfortable way to live my life does not include heels. Pantyhose I just hate because, well... because they're pantyhose.
I could do 30 days of shoe photos, but it would be pretty boring. Oh, sure, there'd be some excitement with a couple pair of work boots and my trusty
L.L. Bean Maine hunting boots
... but for me, it's mostly sneakers and flip flops...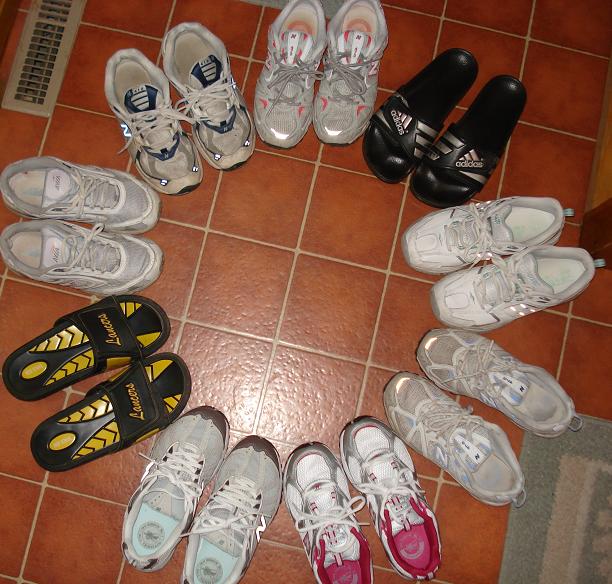 For sneakers, it's mostly New Balance running shoes or cross-trainers, I think they're called... though I rarely, if ever, actually run in them. They have great support, though, and are usually lightweight. New Balance is the one brand that I can easily find in my size, a 7.5 wide, though I can make do with a normal width if I have to. Like the white and deep rose pink pair on the bottom, right of the photo. Loved the color, had to have 'em and had to buy normal width. Also newish are the brown and light blue pair just to the left of those. Also New Balance and incredibly comfortable. I have to stop myself from wearing them every day.
The totally striking black and yellow flip flops were purchased at Wal-Mart several years ago, because I saw them and felt a rush of school spirit. They are those soft, bouncy kind of soles, and I can wear them all day long. I have on numerous occasions, and at some point, Kev thinks I got water inside the soles because now when I walk, they gently go whooshhh, whooshh with every step. Not usually noticeable, but I liked to wear them at Space Studios because the studio floor is cement... but the whooshhh, whooshh seems so loud in that space that I finally gave up. I now wear my old navy and gray New Balance with no socks... the pair toward the top, left. You can tell I wear those all over with bare feet because the insides of the shoes are filthy dirty. I'll wear those to the ballgames, kick them off, walk in the dirt barefoot and then put them back on. Makes 'em pretty dirty. But it's my filthy dirt, so I'm ok with that.
My other favorite flip flops are the silver and black Adidas, again, I've had them for years. Note the frosty pink on 'em. I painted that on with nail polish. Isn't it cute? Though I didn't do it for cuteness. I did it because at the time, both Sammy and I had the same flip flops in the same size, back years ago when he had small feet (13 years old and wearing a size Mens 11 now). Painting frosty pink on my pair assured me that Sammy would NOT touch them. His pair are still around somewhere because back then that boy could never wear out a pair of shoes; his feet grew too fast.
And where all those sneakers in that photo came from, I have many more, but I was too lazy to get them all out of the closet, or up from downstairs or from the garage, and so on, to photograph them. (Bad enough I had to put all of those back when I got done with that photo.)
I enjoy shopping for shoes and looking at shoes other than sneakers when I shop. I like to go through the clearance area and see all the shoes there making their final attempt to find a home. If I wore a size 5 or 11, I could find some awesome deals that might even tempt me enough to wear something other than sneakers on occasion. Nah... probably not. It's a theory that can't be proven, because in the town where I shop, I never see a size 7.5 on clearance. When I know there is a sale, I will definitely look for my size, though. But clearance, forget about it.
When I come home with a new pair, which of course I got on sale, I'm usually met with comments like, "what, another pair of sneakers?" Yeah, well, Kohl's didn't have the
leopard shoes
in my size. Whatever.