Last Thursday, Opening Day, when it was starting to get dark and Kevin and Sammy were not yet in from the woods, I could see the moon in the sky through the south-facing window of our dining room. This is my view when I'm sitting at my computer. It was a beautiful, chubby crescent moon, and the sky was still very blue, but getting darker by the second. I grabbed my camera and got 2 photos during those few moments before it was too dark. This jpg file doesn't do it justice, so you'll have to use your imagination...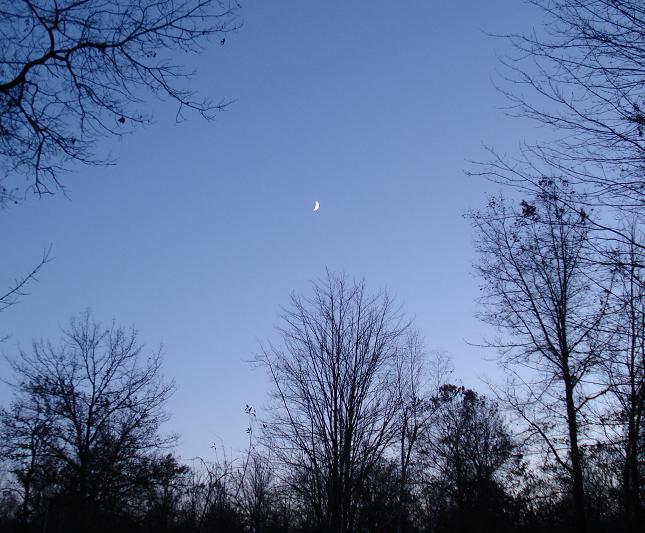 As I walked back into the house, niggling at the edges of my brain was a poem, or nursery verse or something that I knew as a kid that was about the moon... but I just couldn't recall it. I sat back down at my computer and started searching. I never did find whatever it was I was looking for, but I found some old memories anyway.
And I found this web site,
Ongoing Tales
, which is really neat. Old-time poetry set to old-time music, which you can turn off if you want. I think kids would like it, and it would introduce them to some lovely old poems.
This is the
poem
I found about the crescent moon, and though it isn't a poem I could recite, even bits of, it seems familiar to me. And another cool tidbit, my photo is of a waxing crescent moon... a new moon...
THE NEW MOON
by Eliza Lee Follen
Dear mother, how pretty
The moon looks to-night!
She was never so cunning before;
Her two little horns
Are so sharp and bright,
I hope she'll not grow any more.
If I were up there,
With you and my friends,
I'd rock in it nicely, you'd see;
I'd sit in the middle
And hold by both ends.
Oh, what a bright cradle 't would be!
I would call to the stars
To keep out of the way,
Lest we should rock over their toes;
And then I would rock
Till the dawn of the day,
And see where the pretty moon goes.
And there we would stay
In the beautiful skies,
All through the bright clouds we would roam;
We would see the sun set,
And see the sun rise,
And on the next rainbow come home.
Beautiful, isn't it? It got me wondering who Eliza Lee Follen was and if she published many poems. It turned out to be a bit difficult to find information about her, though I finally found this small
bit
, and now I would like to read her book. I could find much more information on her husband,
Charles
. Reading about the 2 of them just made me like her poem, The New Moon, even more.
I like taking note of the moon phases. The difference in how the moon's phase provides light at night out here in the country is noticeable. I've been out walking in the yard or the woods (no, not alone) a time or two during a full moon when it seemed almost as bright as day, well, a cloudy day anyway. I like to know if the moon is
waxing or waning
. And while I was on the Star Date site, I found this interesting
article
... so a "new moon" is technically a "none moon" and not a crescent at all. Hmmm...
This
list of names for each full moon
is also interesting... so we are coming up on the Frosty Moon of November.