That title is quote from my sweet daughter. She was a little loopy at the time, and when she said it, she laughed and laughed and laughed... But then the meds wore off, she got to feeling sick and then she was puking into a plastic bag in the car on the rest of the drive home. Not so funny.
Joycie's face came into contact with the knee of an opponent at Thursday's soccer game. The force of the collision knocked a tooth out of Joycie's head, which went through her bottom lip on it's way to the ground. It was the tooth right next to her right front tooth.
When she hit the ground and then didn't get up, I was on my way out of the stands and down to the end of the field towards her before I really knew what I was doing. As can be expected with most facial wounds, there was a great deal of blood. She had a lot of cuts inside her mouth, including her gums, and a large cut on the outside, at the bottom of her lip, along the lip and down into the skin. So much blood. As we were getting her up, I noticed her tooth on the ground, so I dug it out of the dirt and put it in my pocket. I don't really know why I did that, but I'm glad I did. I guess when I saw it, I just couldn't stand to just leave it there in the ground, for someone to step on... it was part of my girl, so I just bent down and picked it up.
If you're ever around someone who loses a tooth, pick it up, rinse it off with water and then put it directly back into the socket. If you can't put it into the socket, the next best place is to put it inside their mouth along the side of the teeth, making sure they are cognizant of the importance of not swallowing it. Or, failing those 2 options, put it in a container with milk covering it. As quickly as possible. Wish I had known that. As it was, the triage nurse at the emergency room put it into milk, then the doctor put it back into the socket. But by that time, about 25 minutes had passed, so it's not a great expectation of her tooth actually living in her head again.
The ER took x-rays and a CAT scan, and the good news was no broken bones in her face. They called in an oral surgeon, and he wired her teeth up to stabilize them and then stitched up all the cuts.
While we were in the ER, we saw Jesse, who is the father of Joycie's former boyfriend, Nathan, and who is a doctor in the ER. Jesse was so nice, and when the oral surgeon came in, Jesse told him to take good care of Joycie. I know if that hadn't happened, Joyce would have gotten good care... but when he said that, I just felt a rush of relief. I respect Jesse a great deal, and it meant a lot to me when he said that.
Joyce got about 3 dozen stitches total, in her gum, inside the lip, on the inside of the mouth and the outside. It was a long and painful evening for my baby girl. We didn't get home until past midnight.
She's been keeping an ice pack on it almost constantly, but it's still quite swollen.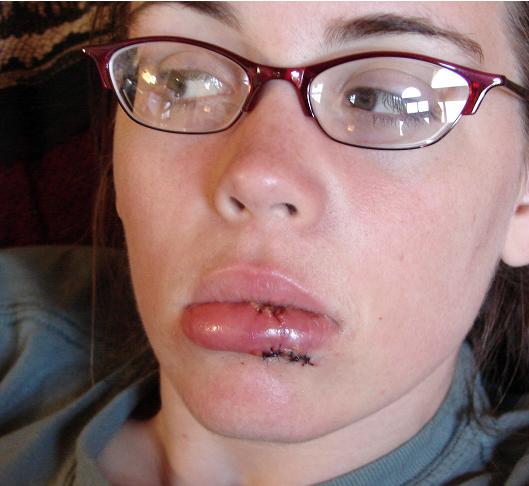 That morning, we got a call from the surgeon, and he had made arrangements for her to see a dentist around noon yesterday. The dentist put a brace onto her front teeth to stabilize them, so the surgeon could remove the wires he had put in the night before... Joyce saw him at his office right after leaving the dentist's office. Since those wires go under the gum, it was very uncomfortable for Joyce. Getting the braces on so quickly and those wires out was great.
Both the dentist and the oral surgeon called this afternoon to check on her. And the oral surgeon had already called the endodontist who will do the root canal next week, so he will fit Joycie in right away. The tooth that fell out must have a root canal.
I cannot begin to explain how impressed I am by the oral surgeon and the dentist. Especially the oral surgeon, who personally knows our regular dentist in town, and since we both know she doesn't keep office hours on Fridays, he made arrangements with a dentist he knew so that we could get the braces on Joyce on Friday so that she wouldn't have to suffer with the wires until Monday. He has been so good to Joyce.
We see the oral surgeon again this coming Thursday morning to hopefully get the stitches out. Since Joyce is going to her senior prom next Saturday, it'd be really nice to have those stitches out beforehand. Also, once the stitches are out, the dentist said he will fit her in for an appointment to get a mouth guard made so she can play soccer again soon.
Yes, she's planning to get back in the box as keeper just as soon as possible. She's one tough young woman.
And the moral of the story is: If your child is playing soccer, call on Monday, or ASAP, and make a dentist appointment to get a fitted mouthpiece for him or her. Or, at the very least, buy one at a sporting goods store. As the dentist we saw yesterday said, everyone playing soccer should wear a mouth guard. They only need one for the top teeth, not the bottom, so it won't really interfere with playing, talking, shouting & communicating with teammates during the games.
It's possible that Joyce may still have had injuries, maybe even lost a tooth, but the dentist said he believes if she had had a mouth guard in, she would not have lost that tooth or been cut up so badly. Also, the girl from the other team got a large cut on her knee and had to go get stitches, and that may not have happened.
Mouth guards, baby. All the way.