This is one of my 3 box pots. I recently finished glazing 2 of them, and this is the one that turned out. I used a bright red glaze and added some brown glaze into it... I didn't want the pot to be bright red; I wanted more of a dark tomato red. And it turned out exactly the color I wanted.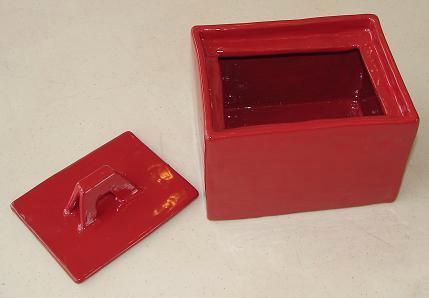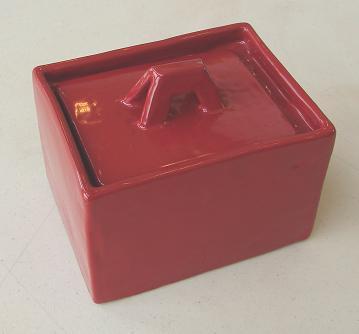 The lid isn't meant to fit tightly, just to sit on top. I filled the pot with large wooden matches as soon as I got home today, and then I taped onto the bottom of the lid the scratch stuff to light the matches.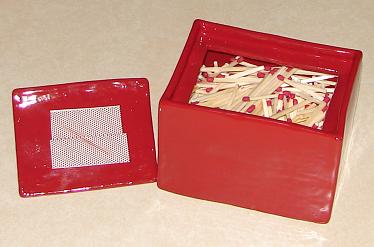 I'm really happy with this box pot. I love the deep red color. The photos don't really show the true color that well.
Now, the other box pot I had finished glazing didn't turn out much like I planned. Because I used red clay, the blue glaze I chose would be more navy than I wanted. To get a brighter blue, I decided to paint a coat of white first, then 2 coats of the blue. The 2 glazes were of the same family, and it should have worked, but it didn't. There were pits in the glaze, with some of the white showing and some of the bare clay showing. At first I thought, well, it doesn't look too bad, it's interesting. But then it sat on the table while I worked today, and I kept looking at it. Yuk. *sigh* I put a coat of blue onto it and am getting it fired again, just hoping it'll turn out slightly better. If not, oh well. It's just as one woman who is an instructor there has said, "don't fall in love with your pot until it's home and setting on the shelf." Because you can't predict any pot will turn out through the making, the drying and the firings. Then you have to transport it home...
I am looking forward to getting Joycie's pot back, though. It hasn't been through the glaze firing yet. Because it's a large piece, they have to fit it into the kiln as they can. Larger pieces can take longer to get a spot in the firings. If Joycie's pot craps out on the glaze firing, I'm going to be really,
really
sad.
I finished glazing my 3rd and final box pot today, along with my "tripod" candle holder... can't wait to see those done. I'm also still working on glazing my "crazy quilt" pot, but that's pretty slow going.
I have a project I want to start next all ready in my head, actually 3 projects... but I didn't have time today to slab out the clay, or to use the extruder. I'll need both slabs and coils for the next couple of projects. I don't know if I'll be able to wait a whole week to go again... today was nice; I needed that time doing pottery. Felt good.