This is the 2nd finished of my 3 box pots. On this one, I painted a Queen Anne's Lace design using a small-tipped bottle filled with glaze, and then I put on one coat of a glaze called "Danish Milk Glass." It shows the terra cotta color of the clay with a milky coating at edges, and I really like that glaze. The glaze I used on the design spread out a little more than I expected, but I still like it. I would like to try that technique again, but maybe with a smaller tip on the bottle so less glaze is applied.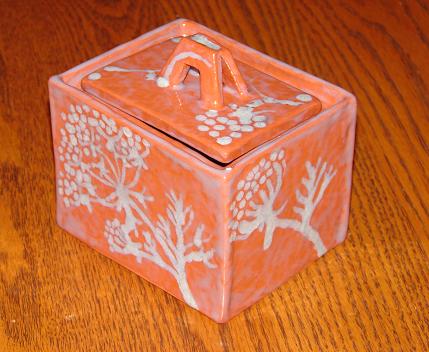 This next project is a big piece. It's a candle holder I made out of large extruded coils of clay, with smaller coils for the center. After I had the coils ready, I shaped them how I wanted and stacked them on top of each other while I did that because I wanted all 3 pieces as much the same as I could. Once those were dry enough, I set the pieces up, and used a smaller coil of clay to hold them all together. That part was very difficult, and I must have rearranged them several times. Then I had to do some more shaping and moving, nudges here and there. Cutting out the holes for the candles was pretty difficult also. When I was nearly done with it, before setting it aside to dry, Kevin and Sammy came to the studio and brought lunch to me (on a Saturday when I decided to do 2 3-hour sessions back to back). I showed them the piece. They both asked the question that almost every person has asked when they see it – what goes on top? or, are you planning something for the top?... One person even told me it looked like a table base. Then Kevin asked if I was going to put a seagull on it. Funny how one little comment can have such an affect... because ever since he said that, I find I don't really care for the piece.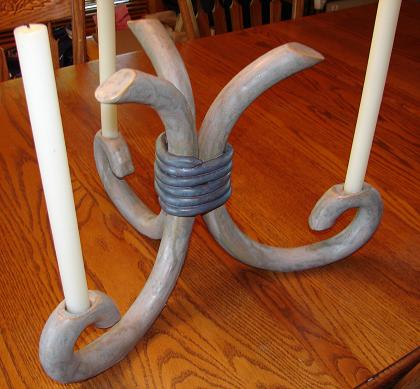 The glazing turned out just how I imagined, and I really like the colors. I also like the feel of the glaze. The large coils feel almost like bone. My inspiration was initially antlers, but once I got going, I felt it was more a metal or industrial influence, more man-made than nature. So it's funny that the end result is, to me, a bit of both.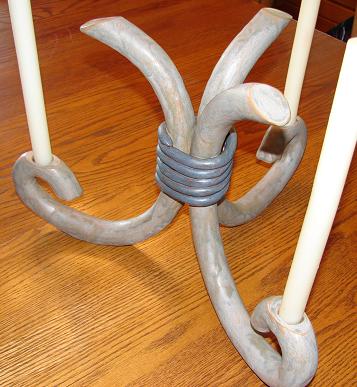 It will probably end up on eBay or something, though... *sigh*
The last piece is a pot I made for Joycie. It is a coil pot, where I smoothed out the coils. I really enjoyed making this pot. When I was starting it, Kathy, the owner of Space Studios, was working on a large coil pot, and I had just seen her finish another. I watched her while she worked on them, and tried some of the techniques she used. For example, after I had worked on smoothing the coils out, I took a flat wood spatula and "spanked" the pot... not only was that kinda fun, but it really had a nice effect.
On the glazing of Joycie's pot, I used a bottle with a small tip filled with glaze to paint on the design. (This piece was the first time I tried that glazing technique; I did my Queen Anne's Lace box pot after this one.) Then I painted on different glazes for the flowers and leaves, finishing up with painting on a couple of coats of clear.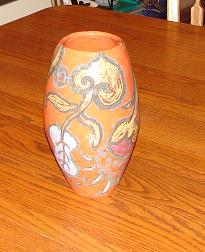 I wanted the "background" on the pot to be the terra cotta, and I wanted the flowers and leaves to show some of the clay also... seeing the brush strokes was exactly what I wanted. I couldn't wait to see this pot finished... I went and did what you really should not do... I got attached to it before it was through its final firing. When I got to Space Studios yesterday morning, Kathy and Peg (another instructor) were at the front desk with this pot sitting there. I was so excited. I had planned to give this to Joycie for a graduation gift, but I couldn't wait... I gave it to her yesterday afternoon, and she really likes it.

My inspiration for the pot was a vase that Joycie and I had seen at a local furniture store. I found the artist on the 'net and was really impressed with her work, the designs and use of colors. Though, the pieces looked very commercial, like what you could find at a Target or maybe a high-end department store. Very smooth and perfect and high gloss. The designs for the plants that I used on Joycie's pot are definitely inspired by hers, which I did because that's what Joycie really liked. Also one of the flowers looks like a guitar to me, so I definitely wanted to use that design for Joycie's pot.
I started a really large piece yesterday morning during my session... and I ended up taking a session and a half, staying there for 4.5 hours. I was really sore yesterday evening... sometimes working with that clay can use muscles I must not be using too often... I extruded a lot of clay into coils that are a little more than ½ inch in diameter... 3 bags of clay of coils! One bag of clay is 12.5 pounds. I then used the slab roller, and slabbed out 1 bag of clay. Fifty pounds of clay so far on this one piece...
I'm making a pedestal to put in my herb garden, to put a pot on top of it. I want to put a scented geranium in the pot, because they cannot winter over here where I live, so I will bring the pot inside once it gets close to frost this Fall. I haven't completely decided on the end design for my pedestal, but I got a lot done toward the base yesterday.
Have I mentioned how addictive this pottery work at Space Studios is???!!! I love it.