Friday morning while the kids slept in, Kev and I got up very early and headed south to Cabelas. It's over a 2-hour drive, but I guess because we went at the right time, because it was nice, with little traffic. By the time we got close to Ann Arbor, the morning rush hour had passed. Perfect timing. Cabelas, which is HUGE, has been crowded the few times we've been there, but Friday morning we had plenty of elbow room.
Kev got a replacement muzzle loader, scope, etc. The first rifle he looked at was perfect. We took the list of everything that the thief stole from Kev's hunting room, and got a replacement item for each thing. Some of the things we couldn't get an identical item, so we got as close as we could. We've never had to deal with this before, and so we don't know what to expect with our insurance claim. Some of the things we got were more expensive, such as the binoculars. Cabelas doesn't sell Bruntons, so we got a comparable Leupold. The Leupold was about $100 more than what I paid for the Bruntons, but then I bought the Bruntons about 5 years ago... maybe more. But then other replacements were less expensive. Hopefully it'll all be acceptable. We were able to get everything on the list. Cabelas rocks!
The sheriff deputy hasn't called us back yet, so we haven't been able to add the other items to the police report yet. Which is a good thing, because when Kev was getting his new muzzle loader, I asked him about a case for it. And sure enough, his original rifle was in a soft case when the thief took it, and Kev hadn't even thought about that.
It was a long shopping trip. In a way, it was enjoyable, but it was definitely tinged with sadness. Kev kept looking at me and shaking his head... he just hates this. Three times he said, "I want my own stuff back." At one point, I thought he was just going to leave or something. He just needed a minute, I guess. It's very stressful. The binoculars were the high point, I think. The Bruntons were nice, but they were big and heavy. Now, there are about a zillion to choose from, and the ones he got are super nice, and not as big or heavy. The smaller pair are pretty much identical to the ones stolen. Kev said he really didn't need the smaller pair now with the new Leupold pair, but I insisted he get a smaller pair, too. We paid for them originally, and that's why we have replacement coverage insurance. If he doesn't use them, Joyce can, or I will.
We did have a nice day together, in spite of the reason we were there. And Cabelas is a beautiful place, like a natural history museum.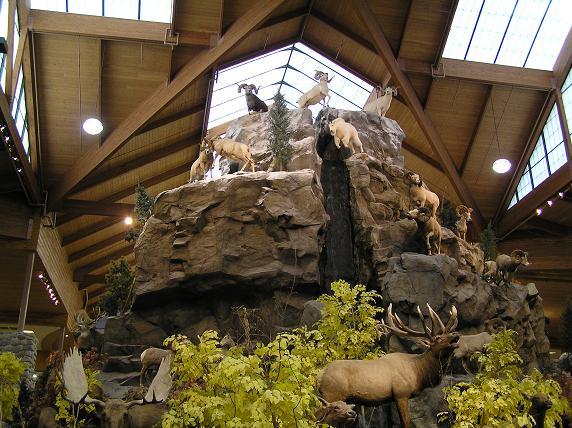 Our drive home was nice, too. It was sunny and the highway was mostly clear. Which we appreciated even more since the south-bound lane, due to 3 accidents as far as we could tell, was backed up for about 20 miles. Hundreds of cars parked and folks out and about, walking their dogs, talking with each other. I bet they were still sorting that mess out while we were driving up to our house.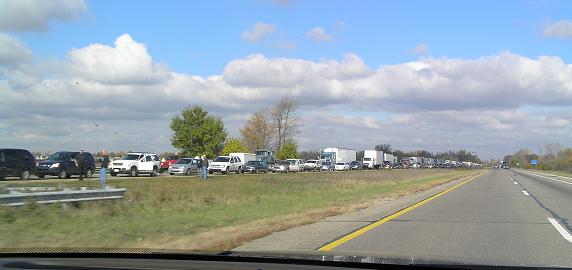 The kids couldn't wait to see all of Dad's new stuff. To them, new stuff is great & a reason to get excited. I think their excitement made Kev feel a little better, at least I hope it did.