Today is my Mom's 69th birthday and my Mom & Dad's 53rd wedding anniversary. They were married on my Mom's 16th birthday on October 4, 1952. Dad was 22 years old. My Dad was in the Army at that time, during the Korean war, and he was shipped out for Korea right after they were married. Dad was married in his Army uniform, and Mom wore a new dress of turquoise taffeta with a white collar and tiny pearl buttons all down the front. They were married in my Mom's mother's home, in the dining room. No photographs were taken at their wedding, but this photo was taken a few days later out at my Dad's parents' home, not too far from where we all live now.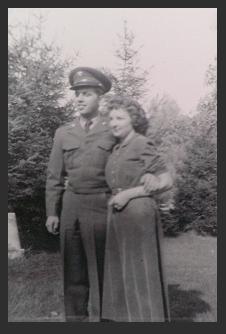 The first night of their marriage, Dad & Mom stayed in a small hotel in a town nearby. They spent part of their honeymoon partridge hunting; Mom said because Dad wanted to. They didn't have any money for a grand wedding or honeymoon. Times were different back then in these parts.
While Dad was in Korea, Mom stayed with family, mostly her sister, Zula. Dad wasn't overseas very long; the cease fire was July 1953.
My oldest sister, Janet, was born the end of March, 1954. Followed by another daughter in April of 1956, a son in June of 1957, another daughter in December of 1958 and then me, the baby, in April of 1960. My Dad was 30 years old when I was born, and Mom was 23.
Happy Birthday, Mom! Happy Anniversary, Mom & Dad! I love you! You have both set such a good example for us all to follow.