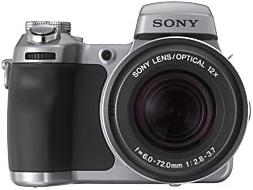 I am so happy with my new digital camera! Kev, Joycie, Sammy & I all went into BestBuy on Sunday, and I ended up with a Sony Cyber-shot at a real nice price. The gift card from Kathy, Bob, Michelle & Michael for my birthday also helped. And I had five bucks from my BestBuy rewards... whoo hoo. I'm still learning all the in's and out's, but so far, so good. Nice, clear close-ups. Still have to try and action shot, but I'm sure it'll do well. I was very comfortable using my Olympus, but have been long frustrated with how it performs on action shots and close-ups. This is the first photo I took with my wonderful Mother's Day gift: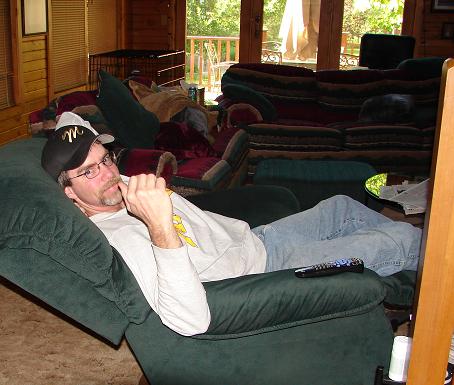 Our other wonderful news is that Joycie's violin arrived in the mail yesterday. She is beyond thrilled. It is not the Andrea violin outfit she had ordered, because they were out of stock on it. I talked with a guy at violinsetc.com and he was so very nice. Turns out they had just acquired a number of used violins from the estate of a man who had collected violins for many years of his life. The guy (whose name I wish I could remember) suggested a 20-year-old Karl Meisel violin, and they gave us an excellent deal on it, including a new bow and case. Joycie was initially very disappointed about the Andrea, but once she played the Meisel, particularly after her violin teacher helped her tune it perfectly and told her what a wonderful instrument it was... well, she fell in love with it! It is a beautiful violin. And it sounds so beautiful, so full, so... Oh, I just can't explain it. I thought her playing on the rental she's been using was amazing. But now... after hearing her on this Meisel, I'm blown away.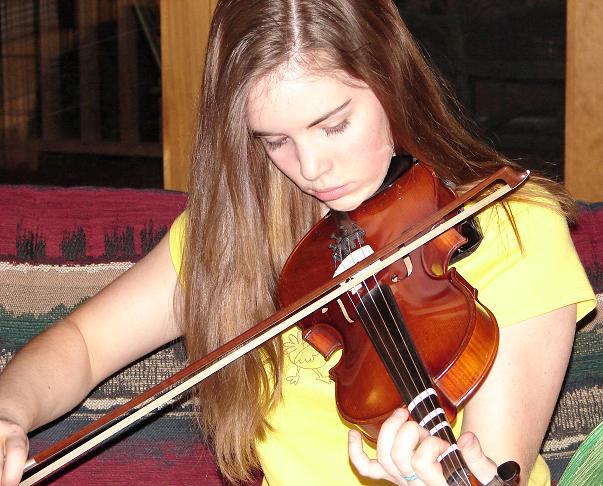 After Joycie got home from her lesson, around 9:30pm last night, she played for Sam & I. We called Kevin at work and put the phone on speaker. Joycie played for all of us. I swear, I just cannot believe how beautifully she plays after only 2 months of lessons. She played an Irish song, Swallowtail Jig, and then Amazing Grace. Her playing made me cry. Seriously, water came out of my eyes, I tell ya. I was in awe. What a girl. She's been playing as I've been writing this post. I love this!
It was a beautiful day today. Wonderfully warm and breezy. Hot, really. And now the sky is clouding up and it's fixin' to rain...
again
. Our pond is full and slightly overflowing. We like it that way... it's... wonderful!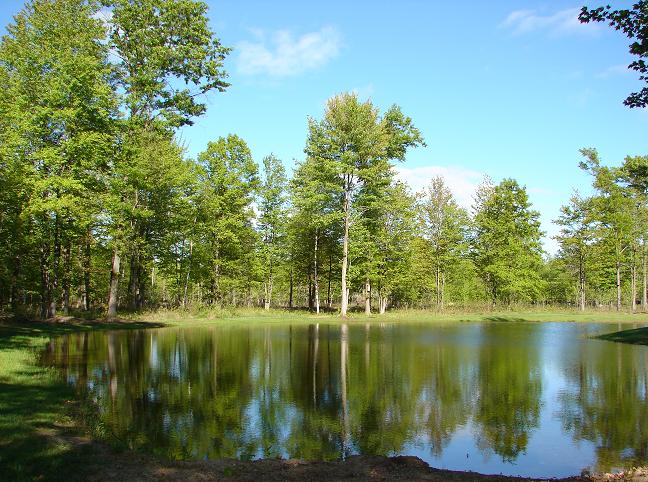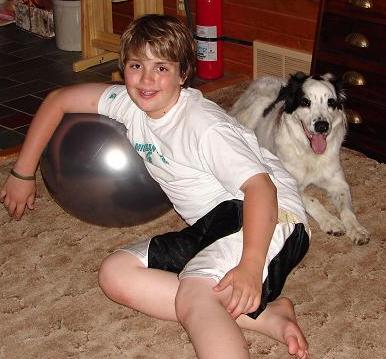 And last, but not least...
This is Sammy (watching his sister play last night) with his new ball from Wal-Mart. It's a cool ball... it's silver and it's translucent at the right angle. Weirdly captivating. Note Reilly's tongue... he was tired from trying to pop it already!