D, I won't do drugs
A, I won't have an attitude
R, I will respect myself
E, I will educate me... now
At our school system, all 5th grade students go through the DARE program. One of the Sheriff deputies comes into the classrooms and teaches the program to the kids. At the conclusion of the program, our elementary school then has a DARE graduation ceremony. All the kids seem to really enjoy the program & get excited about the graduation. Sammy's was on Friday afternoon.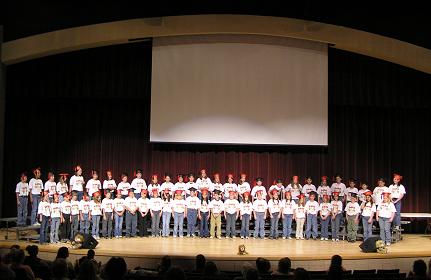 At the graduation ceremony, the kids all sang the "DARE song", which I've been hearing Sammy sing for weeks now. They did a good job. Then 2 of the 5th grade students read their essays about the DARE program (all the kids write one, and the 2 5th grade teachers choose one student from their class to read theirs aloud at the ceremony). We then had guest speakers, which included Deputy Dan (the officer that taught the program at our school... the kids just
love
Deputy Dan, he is awesome), our county sheriff and one of our local judges. The judge came in his black robe, and he spoke for quite a while. He had some great stories for the kids. His message was excellent for our school's 5th grade class. He told how growing up (in this area), his family had no money. His dad had no education and couldn't read, and he was a janitor. The judge told how for his high school prom, he took his date to McDonald's for dinner and all he could afford was 1 burger and 2 milkshakes. Kids today have trouble understanding that level of no money, but I think our school's kids come closer to it than many in our area. We have a lot of poor families.
The judge talked about how he decided to be a lawyer, then a judge. It was a great story. Really great because he was telling the kids how you can come from a poor family, but you can accomplish your goals with hard work and dedication. He did get a little long-winded, and towards the end, the kids were getting antsy. But it was a very good speech, and it was nice that he took his time out of a Friday afternoon to talk at our DARE graduation. Pretty special.
The ceremony was wrapped up with a movie, another tradition, made up of photos of all the kids from various things they've done this school year. Our school's computer tech person creates it, and she does a super job on it. The kids help, too. It was so cool.
This is Sammy with Deputy Dan and his teacher, after the graduation (cake and punch time in the lobby area):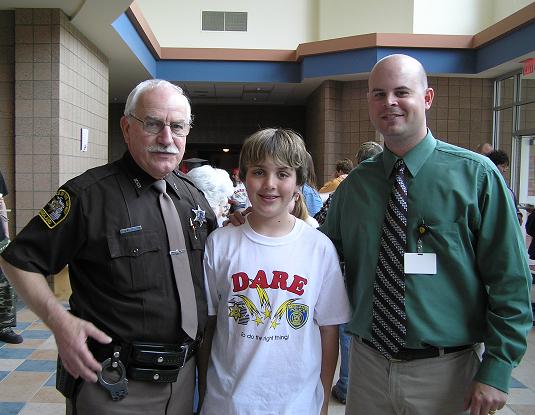 Tradition at our school is for the kids to have people sign the backs of their DARE t-shirts. Sammy decided not to do that after the ceremony because everyone was eating cake and it was a zoo... he had Deputy Dan sign and later, the sheriff, which was really cool. He's wearing his shirt on Monday and taking permanent markers in to have his teachers and friends sign then. He won't be the only one... it'll be shirt signing from now until the end of school... too fun!