Friday was our school district's last day of school. This is the first time my kids have gotten out of school before Memorial Day, and it's great. Kev was on afternoons this past week, so he took Friday off (and he also took Thursday off for the Pistons game, and he doesn't have to be back to work until next Thursday midnights... Yay!). Yesterday morning, Sammy's school had Field Day, and so Kev and I drove him to school at 8:30am, then we went & had coffee and breakfast together and got back to the school for the start of Field Day at 9:30am. Each class goes through a series of field events, and the kids love it.
It had rained Thursday evening and into the wee morning hours Friday, so it was pretty wet out.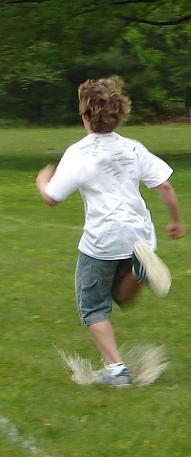 The first event for Sam's class was a race, and the water was flying with every running step. For most of the kids, that only made it more fun. For the 2 girls who fell right off the bat... not very fun. Their butts were soaked. They looked like they had fell into a pool. The boys, of course, were falling
on purpose
. When the kids would get down to the end of race, it was like they were water skiing when they tried to stop. It was hilarious. It rained a little more, but it cooled things off. I thought it was better than previous year's when the weather on Field Day was sweltering hot and sunny. The rain was fun, but it did make a lot of mud. The backs of all the kids shirts were totally mud splattered.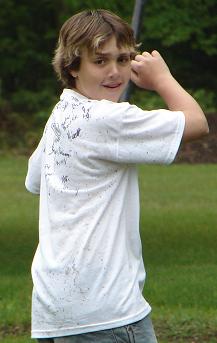 Most of the boys, of course, thought that was way cool. Sammy, not so much. He wore his DARE t-shirt and was getting all his friends, teachers and others to sign it. Good thing he got most of the signatures he wanted before Field Day started.
The Field Day events last until about 11am, and then the whole school has a picnic. The school grills hotdogs and folks bring dishes for a big smorgasboard. This year, Sammy asked if we could skip the picnic and go out to lunch to a Chinese buffet in town that he loves. Sure, we wouldn't mind at all skipping the half-hour wait in line to get a cold hot dog! So we went down to his old classroom for one last trip, & got the few papers he needed out of his desk. His teacher, who is so cool, had drawn cartoons of each of the kids on his board. They were really cute and so funny. Here's Sammy with his picture... note the braces!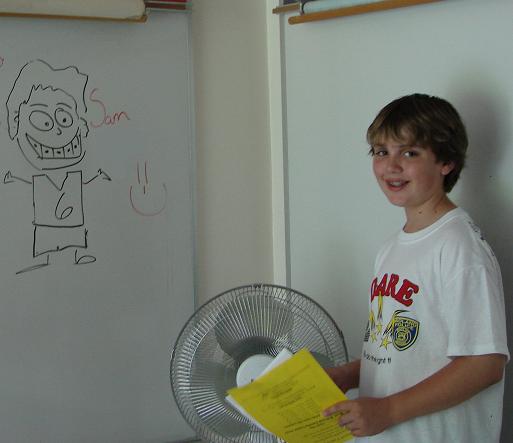 As we were leaving, Sammy said, "bye, classroom, bye, 5th grade." ***
sniff
*** It seems so strange that we're done with that elementary school now. Sam's ready for 6th grade and middle school, though. Very ready. Me, too.
So we signed Sammy out for the last time and went into town to lunch. After lunch, we met up with his buddies, and he went to see a movie. Then Sammy stayed overnight at a friend's house. He had a super good last day of school. Great way to end his elementary school years.