Here I am posting during Lost. But for some reason tonight, I just can't get into it. Too much time between new episodes... think I'll just wait for the DVD to show up at Family Video. Or just forget all about it.
Been a very long day... working on something at work that's been cutting into my home time. It's frustrating and just plain hard to do. Brain strain. Headacheville. Mental fatigue is the pits.
But my Sammy came home today, and that's very good. His 5th grade class did a 3-day, 2-night trip to a place called the Hartley Outdoor Education Center. The kids all took their sleeping bags and dufflebags in with them Monday morning and got back to the school around noon today. Sammy had a blast.
Kev & I drove all the way there to have dinner with him (and all the kids) Monday evening. Parents were invited either Monday or Tuesday evening (and Joycie had a soccer game last night). Sammy was happy to see us there, but he was also very interested in having fun with his pals. No worries leaving him there, that's for sure. We missed him way more than he missed us! That's a good thing.
Joycie went to Hartley when she was in 5th grade, too... but she didn't really enjoy it. She's our little homebody, just like her mama. Sammy has always been able to handle overnights anywhere, as long as it meant having fun. Fun is pretty high on that boy's priority list. Nothing wrong with that. Joycie likes to have fun, too... just she and Sammy often have different ideas of just what fun is.
At Hartley, they did a lot of outdoor stuff, survival stuff, wildlife study, historical stuff. Sammy said they assembled a small log cabin, built their own shelter outside, made fire, dug for fossils, went to a coal mining museum, did obstacle courses, learned about pioneers, made their own candles, all kinds of stuff. They also made these things called funnel cakes. They mixed up the batter, put it into a funnel, then streamed out the batter into hot oil, like in round coils. Once the "cake" cooked, they put powdered sugar or cinnamon sugar on them. Kind of like the "elephant ears" you get at the fair, or beignets. I didn't realize what they were, so when Sammy asked to make a funnel cake this evening, because they made them at Hartley and they were
so good
... I said sure. Didn't realize it was going to be a 2-hour endeavor. But the funnel cakes turned out good, and Sammy was happy.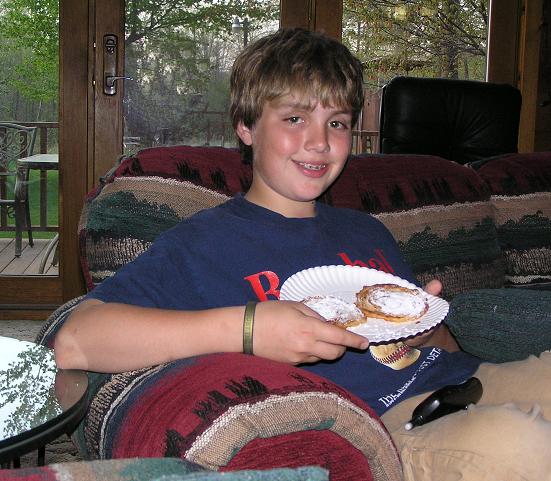 Sammy is so tired... he didn't get much sleep the past couple of nights. See how his one eyelid is a little more closed than the other in this photo? When he gets really tired, it does that... just like his daddy.