Joycie & 2 of her girlfriends, Allison & Kara, and my sister, JoAnne, & I all went to the Gaelic Storm concert at the old State Theatre in Bay City this past Thursday evening. I cannot explain well enough just how much fun that was... Gaelic Storm is 5
extremely
talented people. We enjoy Irish folk music, but Gaelic Storm is so much more than that. If you ever have an opportunity to see them live, oh man, do it. If not, buy one of their CD's.
We all, like so many people, love their "Johnny Tarr" song... the girls made t-shirts (with some help from me).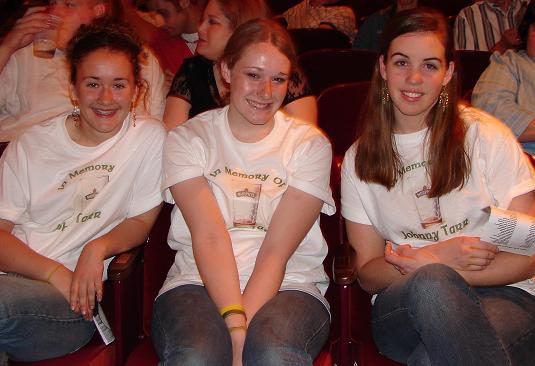 On the back of their t-shirts is a large shamrock outline, with plenty of white... After the concert, all 3 girls got each member of the band to sign their shirts (on back shoulders). The band liked their shirts... one guy said, in his Irish accent, to the other guy, "did ya see these shirts?" And the other guy said, "yeah, they're fuckin' awesome." Cool!
They allowed cameras, and I took a ton of photos... since I still don't know how to use my Sony (and Kev & Sam had my Olympus), most of the photos didn't turn out that great. I got this one that shows all 5 band members.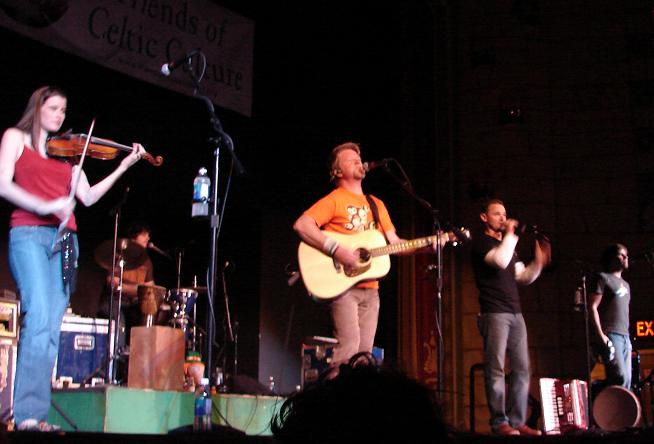 Joycie and I will definitely be looking for the next time Gaelic Storm is playing anywhere near us. They have a new CD coming out in July, and Joycie has already wrote down the date so she can buy it. Definitely Big Fans of Gaelic Storm.
Sammy & Kev had my Olympus camera because they took it with them to the Pistons game at the Palace that night.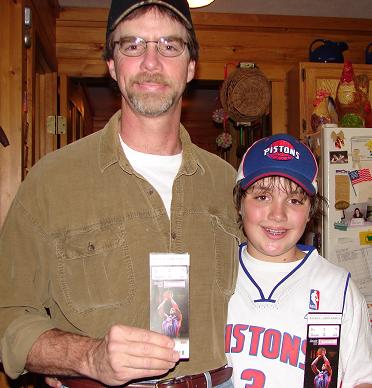 On Wednesday afternoon, a woman I work with made a passing comment, when I just happened to be nearby, that if anyone wanted tickets to the Thursday Pistons game, her husband knows a guy selling 4 of them for a hundred bucks each. I yelled out, "I'll take 'em!" I think I startled her. But I wanted them! Well, I really only wanted 2 tickets, but we had to buy all 4. Thankfully, Sam's friend, Brett, and his dad, Craig, bought the other 2 tickets & went with them. The seats were pretty good, and a hundred dollars a seat was actually a good deal. I think the regular price would have been over $150 each. The guy we bought the tickets from is a season ticket holder, so he got a better deal on the tickets. Someone had backed out, so he let us buy the 4 tickets. Awesome. When I told Sammy he was going to the Pistons game, well... you can imagine the excitement. Kev has been talking about taking him to a Pistons game all this year, and they finally get to go... and it's a play-off game. Way too cool.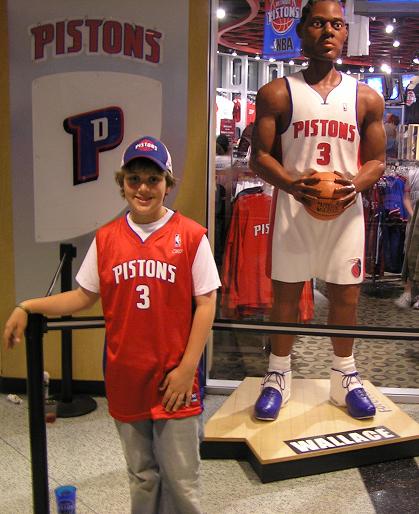 All 4 of the boys bought new Pistons jerseys. Sammy & Kev, of course, got the big number 3, coz Sam is a huge fan of Ben!
It was really crowded at the Palace. Their tickets were in the 2nd tier, row 4... it looked pretty far up, but Kev said they could everything and it was great.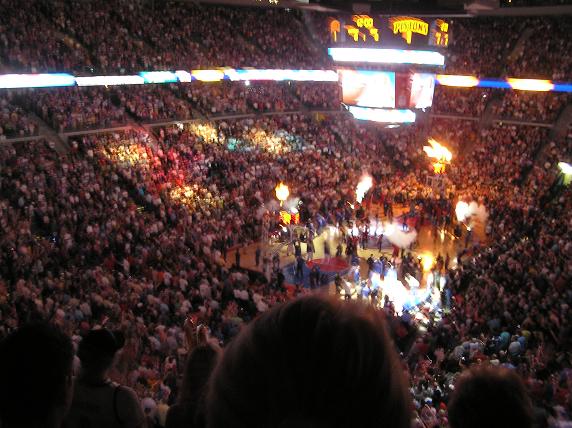 And the best part was the Pistons won.
Thursday night was one helluva a good night.