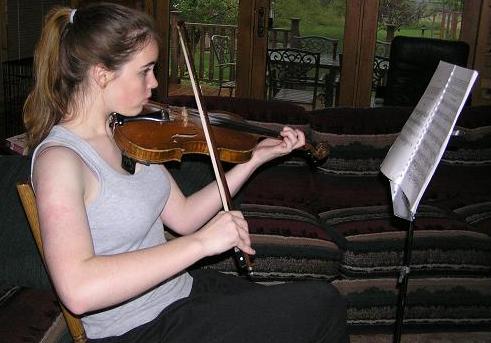 Yesterday late afternoon and through evening until Kev got home from work, Joycie played her guitar and then her violin up in her bedroom. I was working on my computer and hers, doing some maintenance and clean up. Sammy was gone with a friend, so it was just Joycie & I at home.
While I was working on my computer, here in our dining room, Joycie came downstairs with her violin, set herself up in the living room and played for me. I cannot believe how beautifully she is playing after only 2 month's worth of lessons. I love listening to her play. If she is this good after 2 months, I cannot wait until this time next year.
She's currently using a rental violin from her teacher, and she's been anxious to get her own violin. After her first lesson, Joycie did quite a bit of research on the 'net on purchasing a violin. She found about 5 on line that she was interested in, printed off the details and showed her teacher. There was one she was more interested in than the others, and he said it looked to him to be a very good choice and a good deal. Joycie and I looked at all her selections, found a few more, did some reading... and I told her I had trouble spending that much money on an instrument that we couldn't see or touch first.
We decided to shop, but locally there is no selection. We decided to spend a day and travel to the larger cities to see what the big music stores had to offer. But I know my girl, and she had her heart set on that one particular violin she found online.
The site has a good reputation and offers a no-questions-asked money-back refund within 30 days of purchase. Also, no shipping or handling fees. It's a violin outfit, which means it includes not only the instrument itself, but also the bow and case.
Driving home from her NHS induction ceremony the other night, we were talking about the shopping expedition... and the violin outfit she truly wants. I decided it was nuts to spend all that time (and money) traveling the state shopping when
this
is what she wants. So we ordered it. Joycie is so anxious for it to arrive. Me, too. I can't wait to hear her play it.
I
can
wait for the Visa bill, however...