A Christmas dinner tradition in our family is Swedish Meatballs. I'm not sure what makes them "Swedish," but they're sooooo good. I think we got the recipe from an aunt, way back when I was a kid.
This past Christmas, my sister, Kathy, and her husband, Bob, had our family's Christmas dinner at their house. I brought the Swedish Meatballs. The recipe calls for ground ham and ground pork together, and since many meat markets won't grind both(some state regulations about not using the grinder for cured and for raw meat...), Kev and I used our meat grinder and did all the grinding. It was a LOT of work, primarily because we ground up way more meat than we needed. I made enough meatballs at Christmas for dinner and
plenty
of leftovers. Leftover Swedish Meatballs are an absolute MUST. Because after eating them, you wake up the next morning wanting them for breakfast. They're that good.
We had friends visit us last night, and I made Swedish Meatballs for dinner from the ham and pork we had leftover in the freezer from Christmas. (And once someone in my family reads this, they're gonna want some meatballs.) I had only enough dark brown sugar for half the meat, so today, we're picking up more sugar so I can finish up the ham & pork and make more meatballs! This is Kev's plate for breakfast... meatballs and leftover potato casserole. Mmmmm....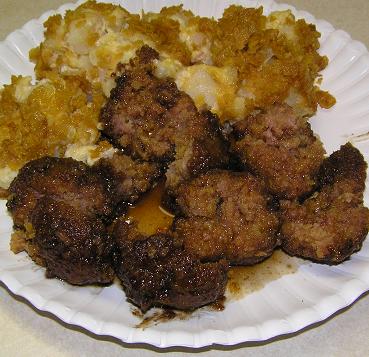 My recipe card for Swedish Meatballs is old and yellowed with stains all over it. I typed it up on an old manual typewriter my folks had when I was a kid. When I was in my early teens, I started making my own recipe box up with all the recipes my family loves... so this recipe card is about 30 years old.
SWEDISH MEATBALLS
1 lb ham, 1.5 lbs pork, ground together
2 eggs, beaten, add to meat, plus 1 cup milk
Mix in 1/2 box cornflakes, crushed
Mix all ingredients well, form into balls of desired size.
Put in baking pan.
Cover with sauce of:
1/2 cup vinegar
1/2 cup water
1 cup dark brown sugar
1 teaspoon dry mustard
Bake in 325 to 350 degree F. oven,
for about 1.5 hours or so, and
baste frequently with sauce.
Truthfully, I don't follow the recipe exactly, and I think I use the same amount of ham and pork, and cornflakes come in all different sizes of boxes... so I just wing it. Also, we don't just crush the cornflakes, we zap them through the grinder because it's way faster & easier. I always double up on the amount of sauce because that's the good part.