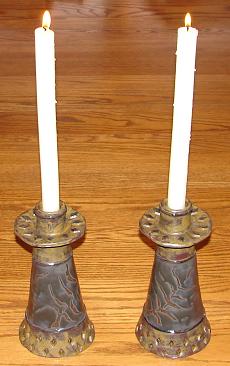 I'm very glad that the poison ivy pot I made for Kev not only turned out ok & that I'm happy with it, but I'm also very glad it was my first finished piece from my pottery classes.
I spent an awful lot of time building and glazing these candlesticks. And though I don't
dislike
them, I'm not real happy with how they turned out. The candlesticks are all hand-formed from clay slabs. Into the bottom of the bases, I cut out diamond shapes, and then I followed up on that pattern but putting diamond shapes around the tops. I used the same glaze on the base and tops of each that I used on the pot portion of the poison ivy pot... it's called cast iron. For the middle sections, I put on 3 coats of a glaze called "leather," and then I sprayed it with water to dampen the glaze, and using various tools, scraped away the glaze in something like a fern frond pattern to reveal the red clay beneath. That part was pretty difficult. I enjoyed doing it. Kathy, the owner, had done a beautiful little bowl using that technique, so as soon as I saw it I was itching to try it. (And I'd like to try again, hopefully getting better with experience.) On the bands separating the sections & at the tops, and also on the diamonds on the tops, I put a single coat of glossy black glaze, which contrasts with the less glossy leather & cast iron glazes. I think I should have put 2 coats, because the bands & diamonds don't grab attention the way I wanted them to. Here's a closer photo.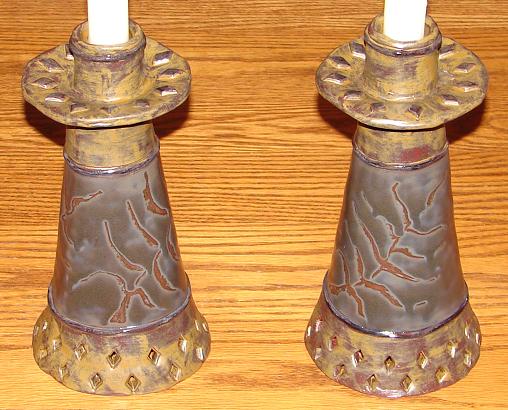 See what I mean? Also, I thought the revealed clay that formed the fern fronds would be more orange, and I thought it would "pop" with a nice, earthy contrast to the brown leather glaze. But as you can see, it doesn't. That's what I am most disappointed about. I should have made the fern fronds bigger. And seeing the 2 setting next to each other now, I also should have made the fern fronds going in opposite directions. Also, the leather glaze ran during firing, which I expected, but there was more running that I thought would happen. The result is a very dark piece. Earthy, yes... & I like that. But the dark glazing seems to me to highlight the imperfections in my work on the clay, without any of the drama I was hoping for.
I tried a grouping with Kev's poison ivy pot, and it's ok.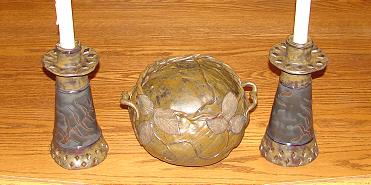 Maybe if I put a different color of candles in them instead of white, they would look more striking. Hmmm...
Ah, well. Live & learn. Maybe these will grow on me. Anyway, I love going to Space Studios and getting my hands in the clay. Even when it gets a little frustrating, like today when a piece kept breaking on me, it's still so very satisfying. Gets the creative juices flowing. Feels good.