I love getting up early on weekend mornings, drinking my coffee in a quiet house. So it kind of sucked when I woke up at 9:45am this morning. Kev left for work at 6:45am, and I was slightly awake then, & I remember thinking, I should get up, coffee sounds good... next thing I know, my alarm on my cell is going off at 9:45am. (I had set it yesterday while at pottery class to remind myself to call Sammy & get Joycie up to take him to baseball clinic.)
9:45am... ugh. It's like missing half the day.
Not that it's changed my routine... Sammy made me an especially delicious pot of coffee, and I'm almost through it... just poured the last cup. I asked him to make it strong, and that boy does listen sometimes. Mmmm... good.
The day outside is blindingly bright with sunshine. The way I have my computer situated, it makes viewing the screen slightly difficult, but I can't bring myself to close the window blinds. It's gorgeous out there. And the birds are loving it, too. I saw a beautiful dusty-pinkish brown female cardinal... and of course, I had to grab my camera. From 10:49am to 11:02am I took 60 photos through the window near my computer of birds at the feeders. It's like OCD.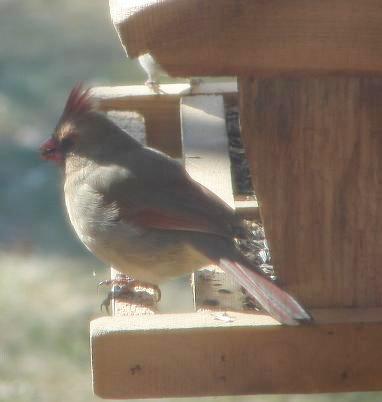 I finally got some photos of goldfinches. Their winter browns are starting to turn gold. Looking a little splotchy, isn't he?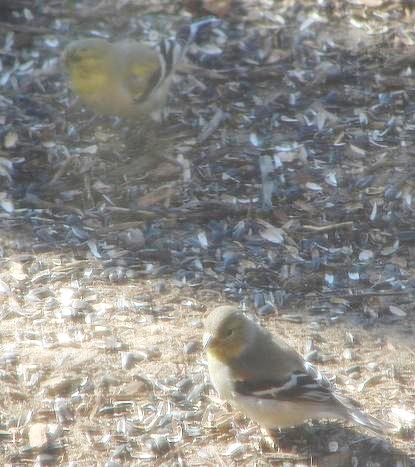 Aren't you proud of me? I've limited the bird photos to only 2.
And now, off to do laundry for the last time. The last time with our old Kenmore washer & dryer, that is. They're off to that appliance retirement home in the sky come next weekend, when our new set will be delivered (delivered and set up for us for free, by the way... well, we have to pay for it, but we'll get a rebate for it).
Kev has been doing his usual research whenever a large purchase is involved, and we went yesterday evening after he got out of work at 7:30pm and bought them. We went to Home Depot, where we got 10% off for signing up for the Home Depot credit card. We bought a set of front-loading LG's for a total of $2,123.41 ($110 of which is sales tax, by the way). This includes pedestals for each, and they don't give those suckers away ($179 each). The pedestals raise the units up 7 inches, and that does, surprisingly, make a big difference... and each pedestal has a drawer for extra storage, so bonus. We also had to purchase a cord and new duct work for the dryer... did you know new dryers no longer come with a cord?
Our total purchase price includes that $55 for delivery and set up, which we'll get back from Home Depot (they'll send us a check after the units are delivered). We also spent $180 on an extended 5-year warranty. I'm usually anti-extended warranties, but for many good reasons (we think), Kev & I decided to go for this one. (Our old Kenmores have lasted us almost 20 years... but they just don't build 'em like that anymore.) We also will receive a $200 Home Depot gift card because of our purchase, which will go towards Kev's power washer. So all in all, we got $2,251.01 worth of a purchase for $1,868.41. Beer to celebrate. I think I'll actually enjoy doing laundry today.
Nah.