I just read my niece's blog post (the link is on the side bar, Chelle Belle), and I'm just blown away... she's beautiful
and
smart! (Just like her Momma!) Michelle's decided to change her course, and I'm super proud of how she's gone about it. I know her Mom & Dad have helped her, but our Michelle is quite a girl!
Kevin is just now coming up the driveway; I can see his headlights. Some guy he works with had to stay over to get something done & was able to cover for Kev, so Kev booked out early tonight. Yay! Reilly is the most thrilled of all, I think. That dog
loves
that man.
Joycie is up in her room playing her guitar and singing. I'm going to miss hearing that come August.
*sniff*
Sammy finally went to bed after 9:30pm, but complained about how hot his bedroom is, even with 2 windows open and the ceiling fan going. This unseasonably hot weather we've been having has heated up the upstairs... I have the windows open now in the dining room, even though it has gotten considerably cooler since noon today. Outside temp is right on 50, & there's a cool breeze coming through the windows. The temperature inside our house is 73 degrees. Ugh. Joycie had the oven on all evening baking chocolate chip cookies. It feels hotter in here than 73.
The cookies Joycie baked are for selling tomorrow evening during the parent teacher conferences at the school for an NHS (National Honor Society) fund-raiser for a local charity (a children's hospital). I helped Joycie bag them up & managed to save some for Kev.
I had to take Sammy to a baseball practice this evening, a short one, only 45 minutes. First one of the season for his Little League team. This is his last year playing Little League, and I'm really happy he got on the team he's on... the coach is The Best. It's going to be a fun season.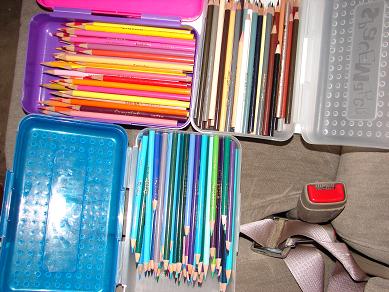 While Sammy was at practice, I waited out in the car. I had my window down and enjoyed the cool breeze and listened to the peepers (they're everywhere!). I was going to do a few sketches for some plans for pieces to make at pottery sessions... but when I went to get the pencil box that has the colored pencils in it, I discovered we actually have 3 pencil boxes full of colored pencils. And they were a mess. So I took the 3 boxes and a battery-operated pencil sharpener, and sorted and sharpened colored pencils while I waited for Sammy. 209 colored pencils. Yes, 209. I was going to sort them "in order"... for some reason, this is the order of colors
always
: red, yellow, blue, green, brown, black, orange, purple. I don't remember now where I learned that, but it is completely stuck in my head & it's been there since I was a kid. (Hey, if you know where that's from, let me know.) Anyway, I decided to pitch that idea... I sorted them by reds, pinks, oranges & yellows in 1 box, then blues, greens & purples in another, and then blacks, grays, browns, whites & metallics in the last box. 209 colored pencils. My son had better not ask me to buy him more colored pencils for school ever again. Aren't they pretty though? Doesn't it make you want to start coloring something with them? Just get your hands on 'em? Me, too.