Our middle school's annual play finally had the opening night performance last night. It was supposed to have been Thursday evening, but school was called off due to a winter storm so the opening night was rescheduled to Friday. Again, canceled due to more bad weather. Also, the cast would have performed the play a second time during the school day on Friday had school not been called off. So instead of a 3rd, well-practiced performance, last night was opening night. And the kids did great, especially for not having had any time together for 2 days.
Sammy had a small part as Buck, the stagecoach driver. This is him delivering luggage and flirting with the schoolgirls.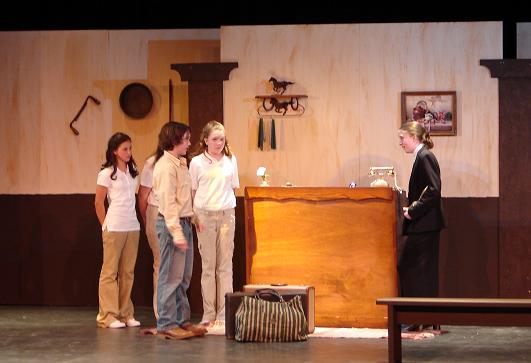 Set in the old-timey West, the story of the play was about a father (mayor & owner of a boarding house/hotel in Grease Gulch) who wanted his daughter to marry the rich man in town, who was an old fart. The daughter, though, was in love with a cowhand. When the father tried to force the marriage, the daughter couldn't talk. Doctors were called in to diagnose why she lost her voice. In the end, 4 doctors were consulted and they all decided "love" was the only cure. They convinced the father to let his daughter marry her cowhand in a "fake" wedding ceremony (like a placebo), only the wedding was real and official, so they pulled a fast one on the father. As the father was lamenting his daughter was married to a no-good loser, an attorney arrived to inform the cowhand that his uncle from Denver had died and left him a fortune. Father suddenly enamored of new, wealthy son-in-law, and we had a happy ending.
The things that happened along the way and the dialog made for a lot of laughter. It was a funny play, and you could tell the kids were having a great time.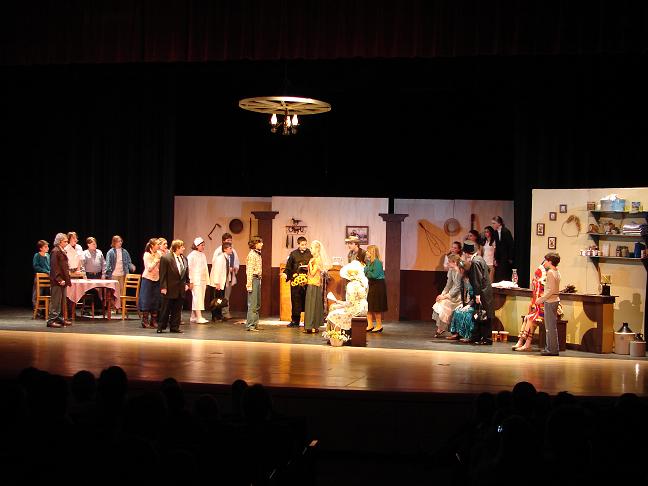 One of my favorite lines was in response to the widow, who owned the general store, telling a woman that she had been married for only a short time when her husband was attacked and killed by a crazed chicken. Sammy's friend Zack delivered the line, with perfect timing, "I've heard of husbands being hen-pecked... but not to pieces!"
As Sammy had predicted, the comedy was "over the top." Very funny. All the kids did a great job. A second performance is being held at 2pm today, and I'm looking forward to seeing the play again.
Sammy looked so good up there on the stage.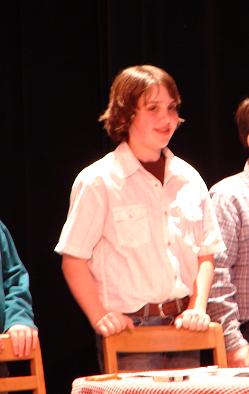 I could be a little biased, but he's a handsome boy.
Both Joycie & Michael were with their friends... Saturday night, y'know... So they weren't with us, but after the play, Kev, Sammy & I joined Kathy, Bob & Michelle for a late dinner at Logan's. (Where they had a special on the 22-ounce drafts... yum!) We had a blast. A wonderful way to end a fine evening.