Last night was the high school prom. Joycie not only fit into her prom dress perfectly, she looked amazing. We decided to do her hair here at home this time instead of paying $60+ at a salon, which was a very brave decision. I have a reputation of having no talent in the hair-do department. We started early, in case she would have to wash her hair and put out an emergency call to Aunt Janet or Aunt Kathy or someone... It took 2 hours, but it turned out just right. Joycie and I had drawn some sketches of what we wanted, and her hair-do totally resembled the sketches. (Whew!) She looked so beautiful. I think she was surprised at how well I did her hair. I know I was. We took some photos at home, and then we went over to her Grampa & Gramma's, where her aunts and uncles met us, too. It was fun, and all the adoring attention was great for my girl. Her cheeks were pink, and I'm sure it was with happiness with a small side dose of embarrassment... & with mounting excitement. It was great. Sammy took this photo of me & my beautiful girl: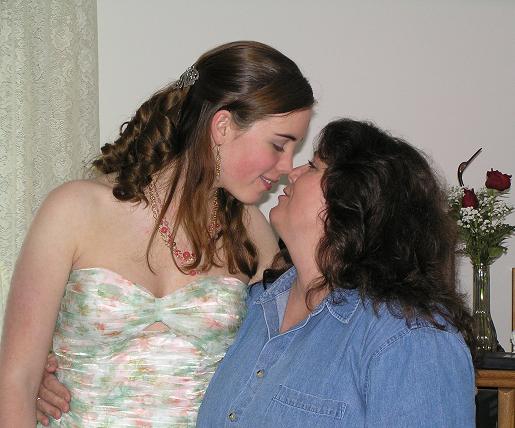 Joycie and 6 of her friends met at a formal gardens for photos. (Only 2 of the 6 girls had prom dates, which is typical at Joycie's high school. There are more girls in her social circle than there are boys.) All day it had been raining on and off, even thunderstorming... it was still raining a little bit when we went out into the gardens, but the girls looked so cute with their umbrellas...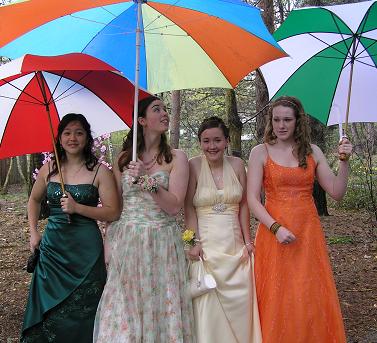 But it stopped raining and the sun came out. Everything was still wet, but I think that made the gardens even more beautiful. This is Joycie and Allison, the prettiest flowers: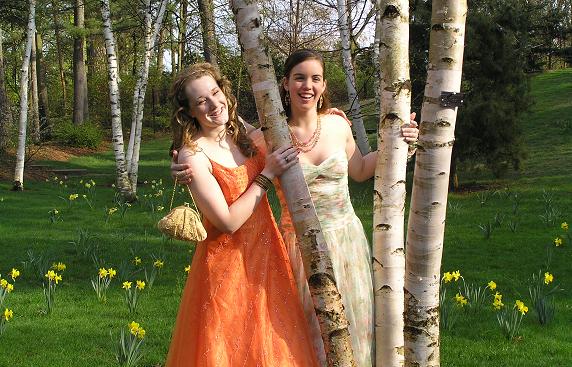 This is Kara, Amanda, Joycie & Allison, and one lucky Sammy: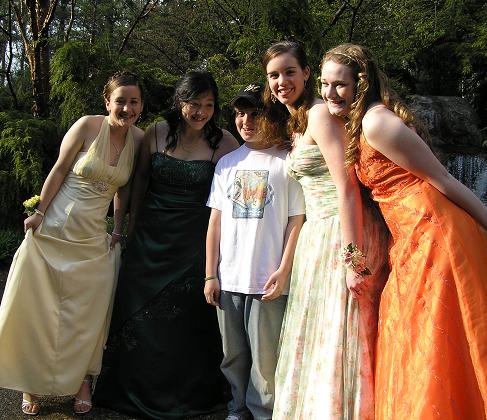 We stayed at the gardens for close to an hour, and it was a fun time. I took about 125 photos total, and nearly all of them turned out. The girls were all in very happy moods, and alternating between glamorous and goofiness for the cameras.
Joyce called after midnight, and she, Amanda and Kara were heading to Allison's to stay overnight there. Joycie stopped by to take off her prom dress and change into comfy clothes. Amanda was with her, and they were both giddy with happiness. (I think I probably told Joycie a kazillion times to drive carefully, especially carefully since she was feeling so happy, and that's when you get distracted, don't be distracted by your good mood, drive carefully...
YES, MOM, I KNOW, MOM...
Hey, that's who I am, a worrywort + a mom = Major Worrywort.)
She called me on her way home, and she told me that she & Amanda had stopped off at a local Meijer store to pick up some pop & stuff for Allison's, around midnight. Joyce said nearly everyone in there was a guy buying beer, except for one guy who was buying Coke. I heard Amanda pipe up that he had a bottle of rum in his other hand. I am sure they got a
lot
of attention at Meijer in their beautiful prom dresses. The rum and Coke guy was behind them in the checkout line, and he told them they looked very dressed up for grocery shopping. No, duh.
Joyce called a little bit ago, and she'll be home soon. I'm looking forward to hearing all the details of her night. While we do laundry... lots and lots of laundry!