Joyce got home from taking the ACT about 1pm. She said it went ok & that the science & math parts were hard. She seemed to feel pretty good about it. Whew. Anyway, she can take it again (and again...).
I told her about all the books I bought at the church used book sale, and she helped me carry in the 7 bags. They were plastic grocery bags, and I had stuffed them so full that they were very heavy. We looked through the books and stacked them all on the table.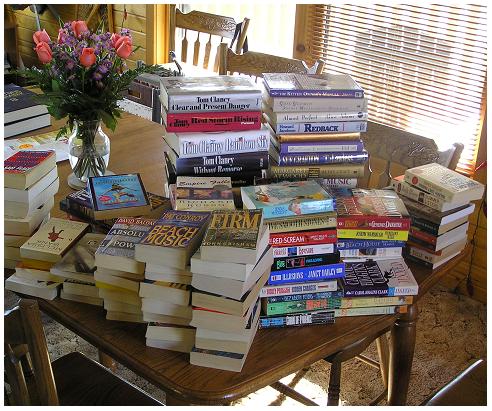 Joycie was pretty happy. 123 books! 23 hard cover, 22 large-size paperbacks & 78 regular paperbacks. Yay!
...actually, I think there's even more than that, because while we took them out of the sacks and looked at them, Joycie started a stack of about a dozen that she said were the ones she wanted to read first... I think she has already squirreled those away into her bedroom.