Home!
I was released from the hospital late Monday evening. It was a long, rough ride home, but better with Vicodin... I think we got home close to 9:00pm (so now you know what passes for "late evening" in my book).
The weird thing was that during the process of being released from Covenant, along with all the paperwork, they gave me 4 hand-written prescriptions; 2 were for antibiotics, 1 for the home nurse and 1 for more vicodin. I remember thinking what in the heck am I supposed to do with these?...
I knew that relatively early on Tuesday, I was going to need a dose of vanco (vancomycin, one of the 2 antibiotics), so when we got home, I called the service out of Mt. Pleasant that provided me with the supplies and vanco before. Since it was late, I got the on-call person, who happened to be a very nice RN named Kathy, who I had talked with before. I read to her what the prescriptions said, and she took it from there. Then I called the MidMichigan Home Care, but there was nothing to be done that late at night; I had to call them the next morning. All this seemed very strange to me... when I was released from this hospital in Midland, a woman named Wendy handled all of these communications.
But honestly, I barely remember those phone calls Monday evening because by that time, I was out of it from pain and tiredness.
The next morning, I remembered that earlier Monday morning I had talked with a woman named Barb at Covenant. Barb would be the equivalent of Wendy from Midland... so I found the business card she had stapled to a "Preparing to go Home" brochure, and I called her. Turns out she would have handled all of this had she been informed I was being released Monday evening. Oy.
So from there, everything went more smoothly. The supplies all arrived shortly after 9:30am yesterday, and Kathy the RN had told me to immediately start a dose of vanco, so I did. Then a home care nurse arrived about 11am, and I was re-instated into their system. The other antibiotic that I have once per day, the meropenem, comes in powder form in a bottle because once it's in liquid form, it doesn't last long. I have to mix it up, and the home care nurse showed me how to do that.
So I'm all set now with the 2 antibiotics, & I got all my what, when & why questions answered. Feels much better having some semblance of control.
A different home care nurse came out this morning, before my first dose of vanco, and she took some blood for a test (they call it a trough test), to see what the levels of the antibiotic are in my system. She also changed my PICC line dressing, and she changed the dressing on my incision. (Here's the
latest incision photo
, for those interested.) I can tell I'm doing better now that I'm home, but I can also tell I've got a pretty long row to how in front of me... because after the nurse did her things, then after I had set up my morning vanco dose, I was beat. I can hardly believe how much just that tuckered me out.
After my 1st dose of vanco, I then have to do the dose of meropenem... and when that's done, boy! am I ever sleepy tired. Seriously, the antibiotics make me very, very sleepy.
Dr. Abter, the Infectious Diseases specialist, wants to see me in a week, so his office called to make that appointment, and when the woman on the phone asked how I was doing, I told her how sleepy I was from the antibiotics, and she confirmed that most people feel that way. She said the best thing to do is to enjoy it and take a nap. So I did. Good advice.
So I laid down on the sofa and looked at this beautiful view until I dozed off...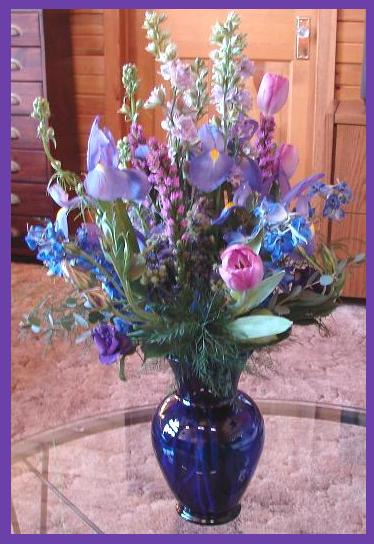 Isn't this bouquet gorgeous? I love the iris, delphinium, tulips, and all. So pretty. It is from my 3 sisters, Janet, JoAnne & Kathy, and it's cheered me up considerably. It's also made me think of my flower garden, where I have quite a few blue delphiniums planted. Six weeks of these antibiotics will take me to early April, and then I'll have a good month or more to get back to normal, back into the swing of things... and this year, I'm going to be able to really enjoy working in my gardens. I'm so looking forward to that.