A while ago, Kev brought in the game camera because where he had it set up near his automatic feeder, we were getting a lot of photos, but they were pretty much all the same after a while... deer eating. We see that every day out our windows, so it began to be not so interesting. Once you've seen a couple hundred night shots of the same group of deer eating, well... you've seen 'em all.
So about that time, he dragged 3 frozen deer carcasses way out back. There was no activity around them for a few days. When Kev finally saw tracks, he set up the game camera. We anticipated some great shots, hopefully something we hadn't yet caught with that Moultrie camera.
Kev checked the Moultrie camera one day last week, and he saw there was close to a hundred photos on it. So he grabbed the card, and we had us a look...
The Red-Tailed Hawk was back, often. Several photos of him. Look at the talons on him.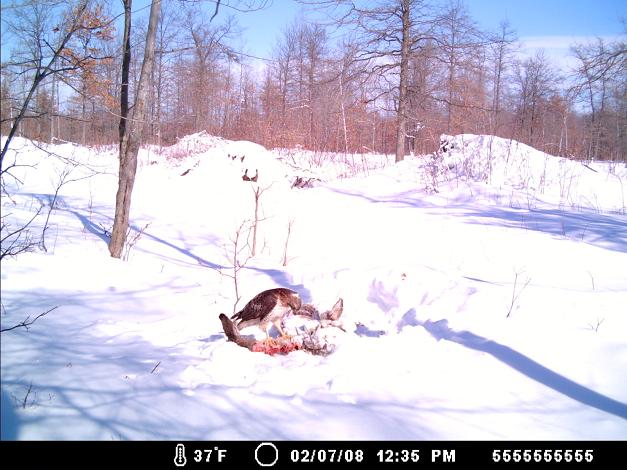 Seriously, look at those talons!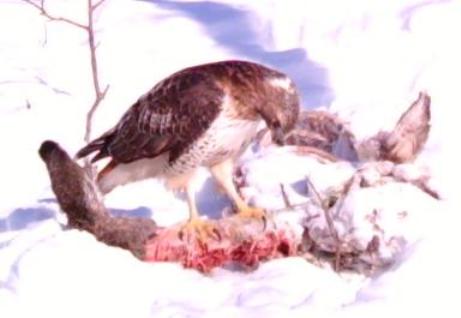 What a gorgeous bird.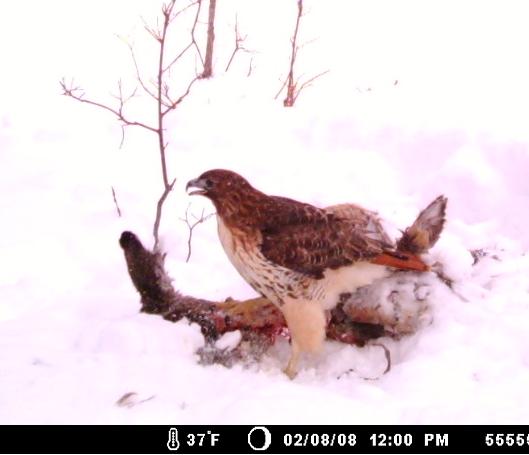 I love this shot with his wings out...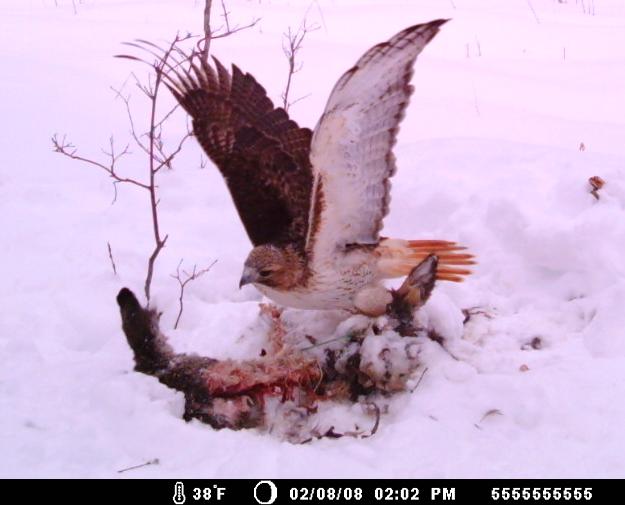 And he has to be huge... look at him in comparison to the carcass. And notice where the carcass is... this was taken, as you can see, at close to 10am on Saturday, February 9th...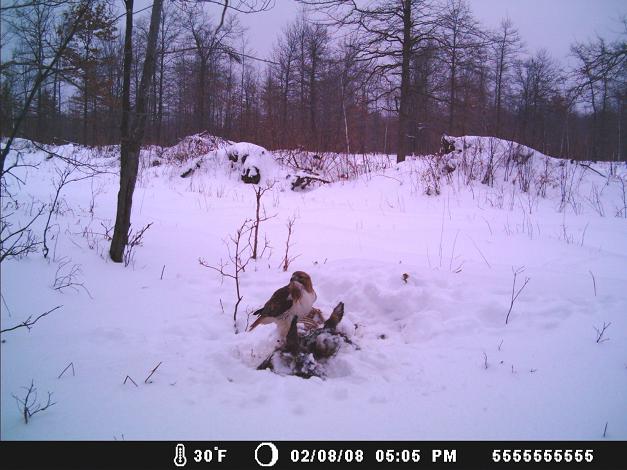 This was the very next photo on the card, taken close to 2pm the next day, Sunday... notice where the carcass is now... and whatever moved it wasn't caught by the camera...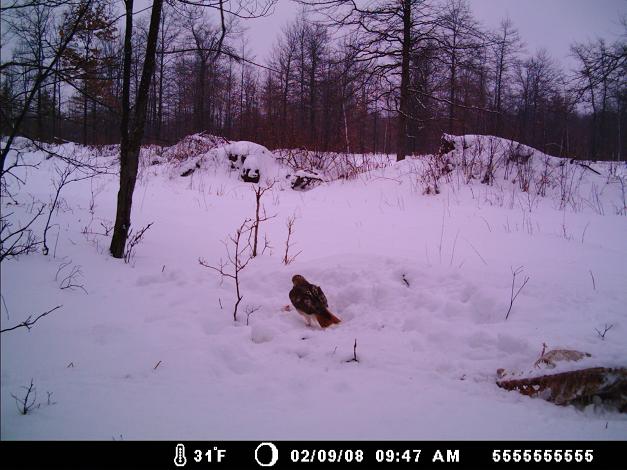 Until later, that is… finally! A photo of the elusive coyote... We have some really cool photos, though none of them show his head and face clearly.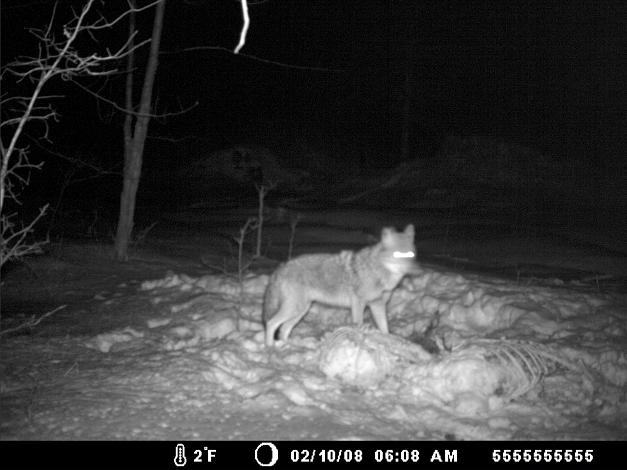 Here he's digging for the 3rd carcass that Kev put below the 2 on top...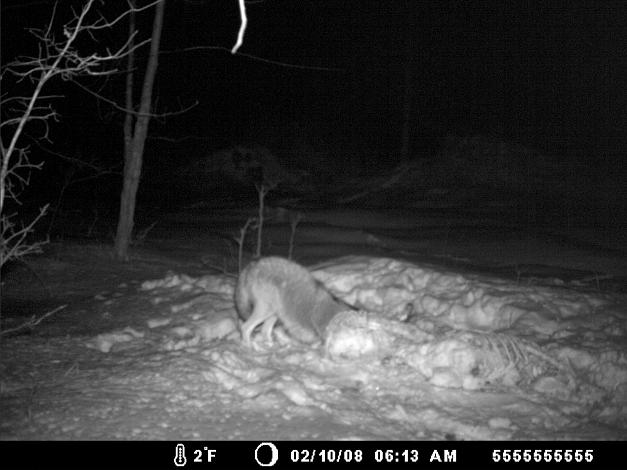 Lots of photos of his backside, while he's filling his belly, which is probably making him happy, but more likely wishing it was a nice, warm kill... notice the temperature... brrr...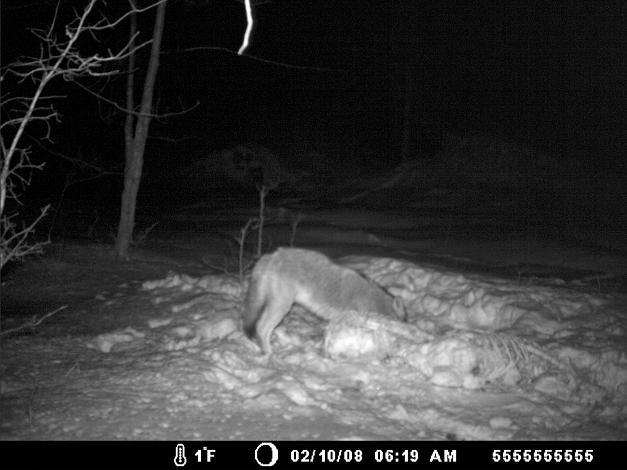 This is what all the face shots are like… I think of all the creatures we've caught with this game camera, this coyote seems to be the most aware and leery of it...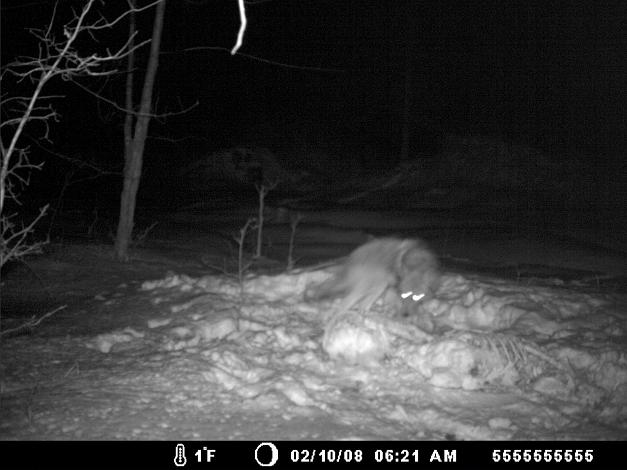 Now this photo is later that same day, late Sunday evening, and notice the temperature now. It was so cold that day... wind chills of something like -20 degrees F., and the Moultrie clearly had some trouble handling it. Kev said the clock is off now, too, by about 20 minutes or so. We're lucky it kept photographing.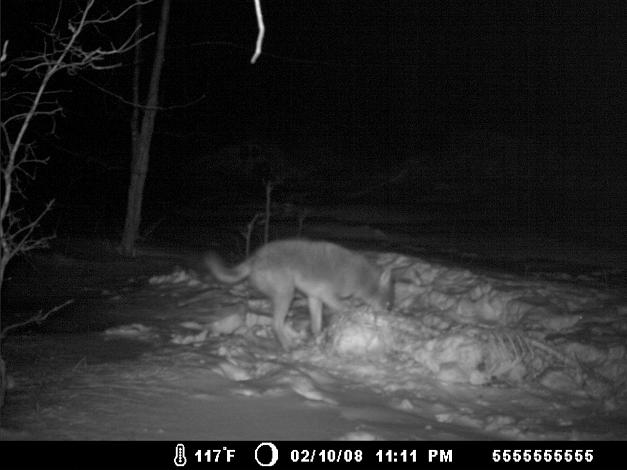 Still digging at that 3rd carcass...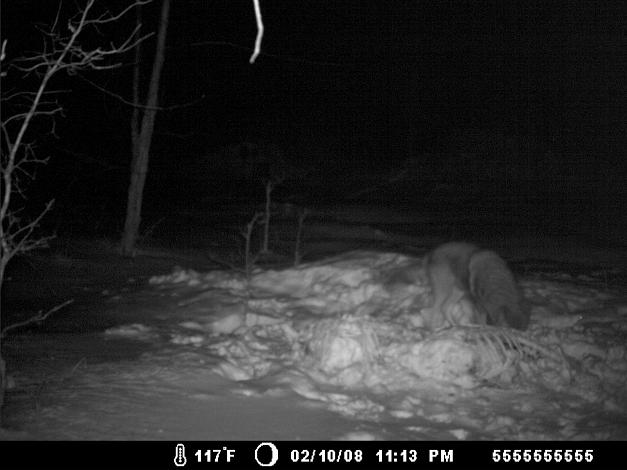 Nice photo of the bottom of his back left paw...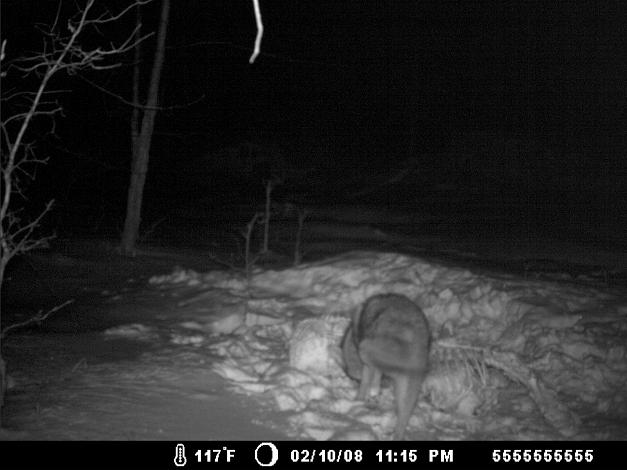 We really enjoyed all the photos of the coyote. I guess I was expecting more than 1 if we ever got coyote with the Moultrie. Kev said, though, that he's seen just 1 on occasion during the past couple of years. I thought coyotes always ran in packs. Makes me wonder why this one is alone.
The hawk wasn't the only bird caught by the Moultrie, and I was very happy to see this crow. I only wish it were better focused. Very cool profile, though.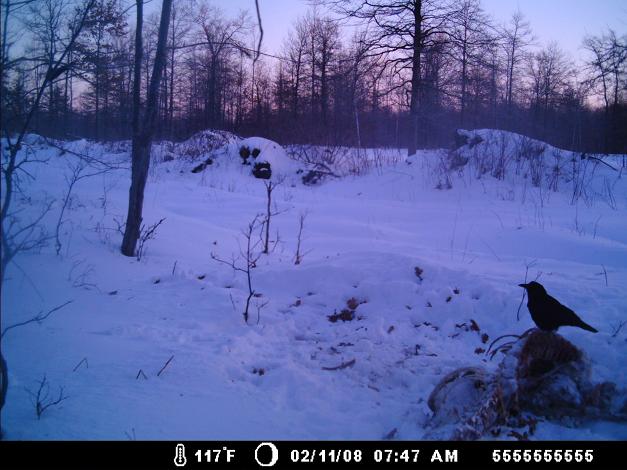 And there were many shots of blue jays... I didn't realize the jays would pick at the carcass... but then, all the birds seems to love the suet balls I buy at the local butcher shop, and those are made with various farm animal fats, like cattle and hogs. Do you see his little friend in this photo?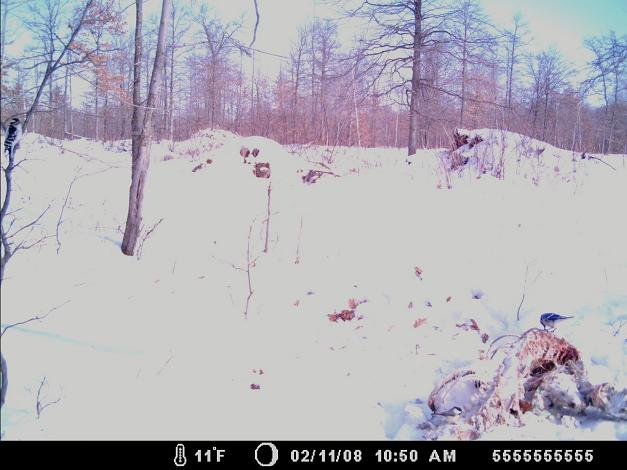 We had 2 photos of the hawk leaving... beautiful...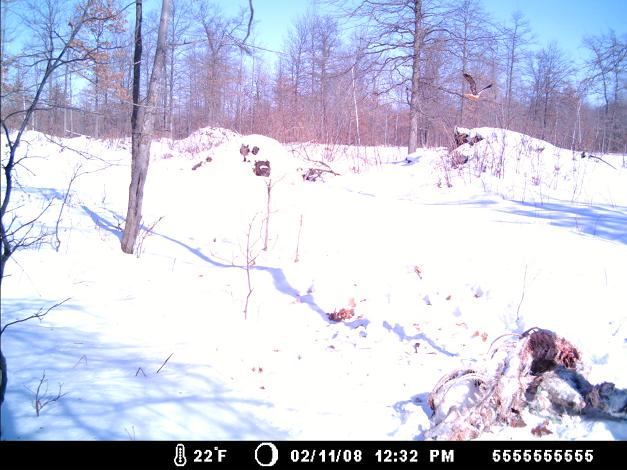 Bye!