Speaking of beauty (just go with it), while I was getting admitted to the hospital Friday evening, Sammy was at the basketball games at the high school. Due to the new rules regarding high school sports in Michigan (don't ask me any details), both boys and girls varsity games were played. He then got to go home with his friend, Zack, and stayed over night with them. Zack's mom, Tracey, has been such a huge help with Sammy during this time. Love that gal!
Sammy wanted to go to the games very much, and when he found out that maybe he wouldn't be able to go, he was very unhappy... Then I discovered that his girlfriend, Morgan, was going to be at the game. Ah, I see.
Sammy e-mailed to me this photo of the 2 of them at the game that he took with his phone.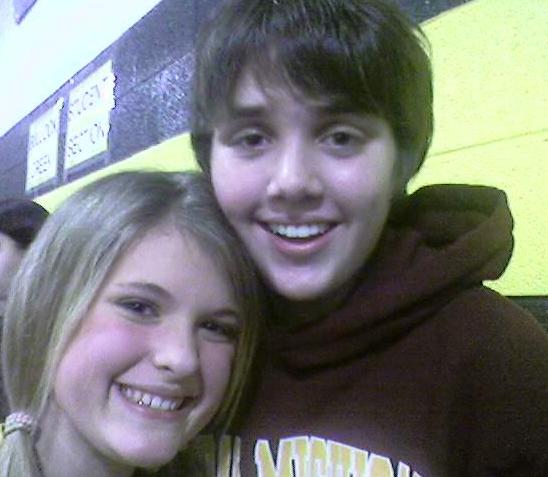 Morgan is a very pretty girl, and she seems very sweet. She and Sammy have been talking on the phone a lot. Whenever I would holler for Sammy to help me with something while he was talking to Morgan, when he tells her to hold on a minute because he has to help his mom, she tells him to tell me hi. Not many 7th grade girls are like that.
However, they are not "officially" going out or "officially" boyfriend & girlfriend... Morgan's mom won't allow it. I feel bad about the situation, like I'm participating in a big fat lie to Morgan's mom... but then I found out that Morgan's parents were at the game, and they know she sits with Sammy. I think her mom knows they are crushiing on each other, but seems satisfied with not allowing Morgan to officially declare she's "going out" with Sammy. Also, Sammy says he thinks her mom doesn't like him, because when he says hi to her, she ignores him. But I think he's being very polite to her mom and trying to win her over. What I wanna know is how could that woman not adore my boy?! If were the mother of a 13-year-old girl, I could find no better boyfriend for my daughter than Sammy. (I'm not the least bit biased, it's the honest truth.)
Clearly Morgan's momma isn't checking out her daughter's myspace page the way I check out Sammy's. Otherwise, boy oh boy, would she be clued in.