Last Saturday, Joycie and I drove Sammy over to the town where his football game was being held. Kev stayed home trying to get as much sleep as he could, since he was working midnight-12's. We had to get Sammy to the field an hour before game time, so that left Joycie and I with not much to do... except go hit the garage sales. We saw one on our way to the field, so we backtracked, and I got this really great woven straw sun hat for fifty cents. Joycie thought I was nuts, but it makes a great hat for a scarecrow. We hit another sale, and Joycie and I found this old coloring book. At least that's what it's called, "Kim's Storybook Friends Coloring Book" by Red Farm Studio. It is six large heavy pieces of paper with storybook character scenes printed on them, and you're supposed to color them. The sheets are 12 x 18 inches, and there is Heidi, Alice in Wonderland, Snow White & the 7 dwarfs, Hansel & Gretel, Cinderella and Rumplestiltskin. The drawings are beautiful, and they're very detailed. It is in the original box, though that's damaged. The whole thing is not in perfect condition, and it smells old. Because it is old! For $3, it became ours. Included is a small note that reads, "Kim Says -- Color or paint these lovely scenes Then frame and hang upon your wall." Joycie and I were thinking Kim had some good idea going, and we want to use watercolor pencils on the drawings, and save them for hanging in a nursery. Joycie told her dad not to worry. We have years to get those done. Years.
So anyway, we're driving back from that sale, and we drive past this place that just struck me as so odd. First of all, this...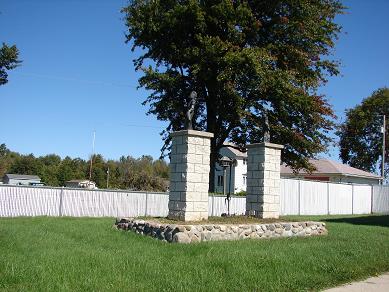 A fancy brick entrance... where's there is no entrance, no drive. Ummm... ok. Guess these guys don't have much to guard.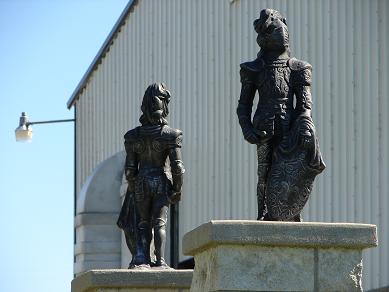 Weird, huh. Makes no sense. Neither did the stop sign at the end of the driveway of the house right next to the go-nowhere-entrance... notice that the stop sign is at the end of the driveway at the
house
, not the end at the road. Stop or you'll hit my house...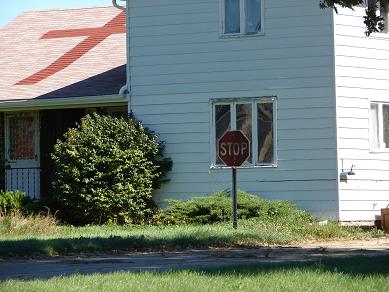 Again, makes no sense. But the lovely cross in shingles is a very nice touch. The house looked deserted, though. Stop and go to heaven here... ?
Then yesterday evening, while returning from Alma, about an hour's drive away from home, where my sister, Kathy, and I had gone to see Michael not play a tennis match... (it was thunder-and-lightning'ed out), we saw this truck hauling a trailer with a 4-wheeler ATV on it...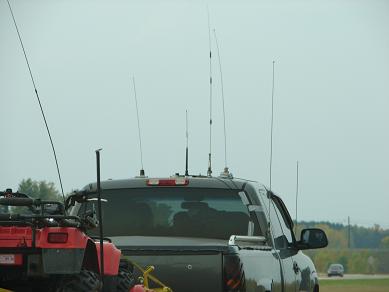 What kind of person driving a pickup truck needs 7, count 'em,
seven
, antennas? For what could they possibly all be needed? Makes no sense to me.
But finally, while snooping in Kathy's glovebox of her car, something did make sense...
And this makes sense, too, coz no cassette tape collection is complete without Neil...