Yesterday morning before I left the house to go to my pottery class, I noticed some visitors coming up our drive...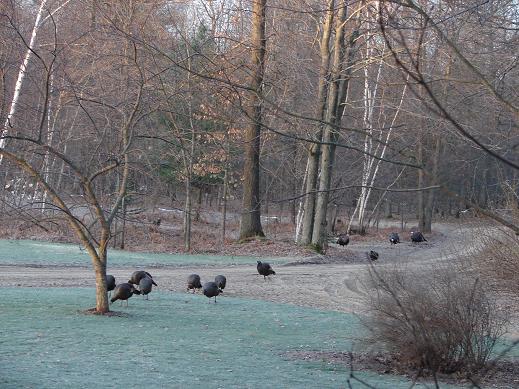 I also noticed there were 3 toms among the many hens, and those gobblers were showing up in fine fashion.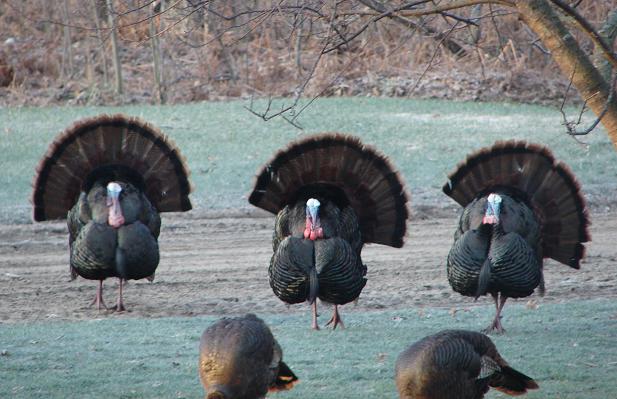 Take a look at those beards!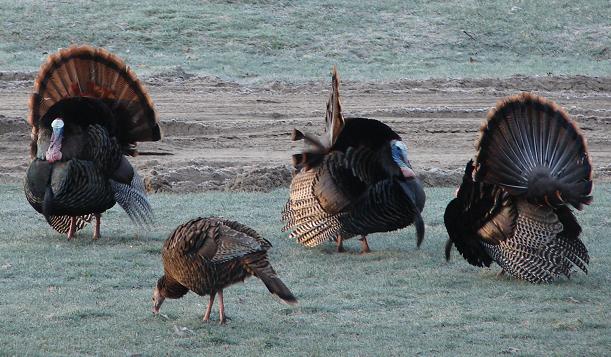 I soon saw the cause of their display... it was for the benefit of a young beardless jake.
Well, I suppose it could be all about mating season, too...
It was pretty interesting to watch this group and their dynamics. The 3 old toms were pretty much sticking together, but also managing, for the most part, to boss the hens into where to go. The toms mostly stayed to the back, like they were herding their harem.
After a short while, a small group of the hens strayed behind the 3 toms, and were busily pecking at the ground. It was the opportunity for the jake to strut his stuff among them... but none of them seemed to pay him any attention or even to notice him. Poor thing.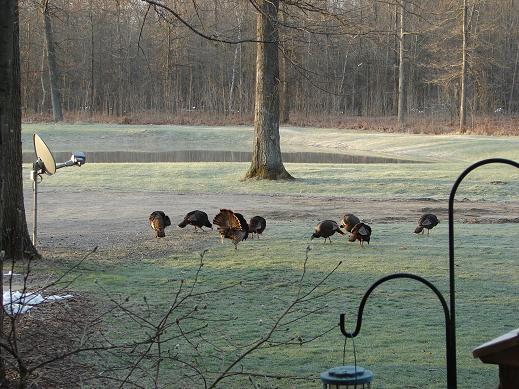 Or at least they didn't show it so as I could tell. The 3 gobblers noticed, though, and they hurried back over, majestically, not urgently, all puffed up and wings dragging in an impressive, full strut...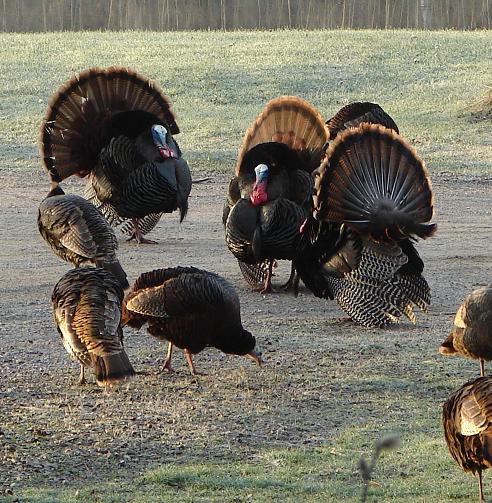 The jake wisely retreated.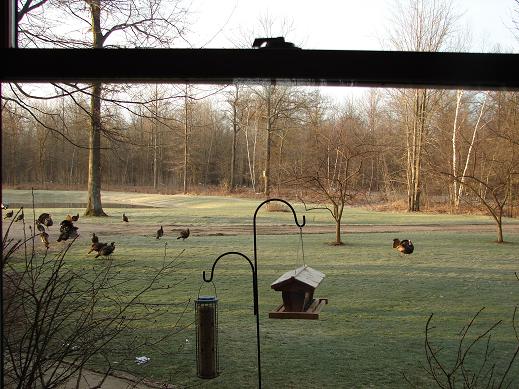 Then more of the hens pecked their way back over nearer the 3 toms, and then some of them pecked their way closer and closer to my bird feeders. I finally had to open the window and holler, "no turkeys allowed!" They all scooted away toward the pond, where they settled back into pecking busily again. The 3 old toms kept strutting their stuff this whole time, while the young jake alternatingly puffed out his feathers and then settled back down, puffed up, down, puffed up, down... Very entertaining. It made me think of a young teenaged boy...
Then I noticed the 3 toms seemed to have encircled a single hen, and then one of the toms was doing a different kind of dance, and I thought sure it was courtship-related...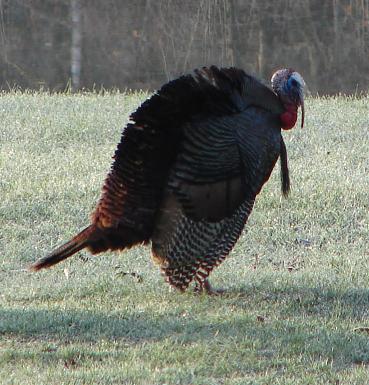 He stood like that, crouching, and was shivering his feathers and doing a little stamping thing with his feet... and I thought, holy cow, he's gonna get some and I have my camera ready! I know, I know... kind of invasive, but that would be interesting to catch on film, er... card. But nothing really happened, and the hen just kept pecking, was joined by another, and the toms moved around doing their thing. Every once in a while one of them would do the crouching dance, & then they'd move on. A few more hens made their way closer to the feeders, and I had to warn them off again, then again. More strongly the last time, so they all took off across the yard and made their pecking or strutting way out into the woods.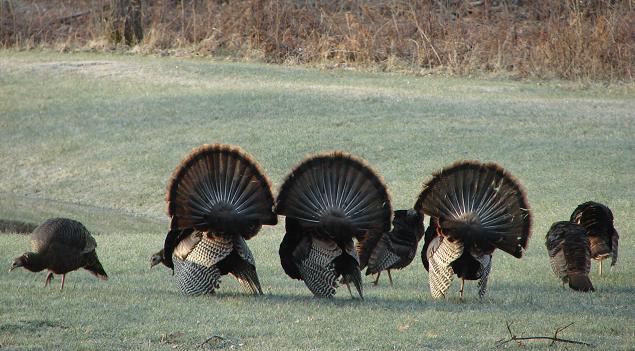 But of course, they thoughtfully left several reminders of their passing in the yard...