Woke up this morning to a dusting of snow on the ground. Seems like April in Michigan! Most of the snow is now gone, but there are still some light, little flakes coming down. Every once in a while, the wind picks up to fierce. Brrr...
And where's Kev you ask? Outside with the 3 dogs, and his beloved tractor... Cutting wood.
He was outside working all day long yesterday. Later, around 5pm or so, we drove Sammy into town to his friend's house, and on the way home, Kevin said, "My fingertips are hurting... hmmm... I think maybe they're thawing out." Kev doesn't care what the weather is like, he loves being outside. Even if it means his fingers freeze.
A couple of Canada geese noisily landed on the pond this morning before I left for a pottery session. I went out and took some photos... & froze! It was 23 degrees F. at 8am.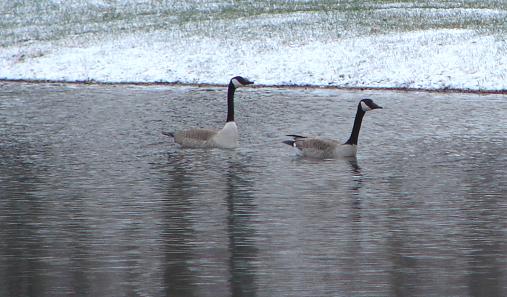 These 2 geese noticed me and started squawking at me. A 3rd goose came in for a landing, but the noisy buggers warned him off... then they took off themselves...