The weather has turned absolutely gorgeous. Last Thursday evening, I went to bed and left my window open. I fell asleep to the sound of Canada geese, on the pond, calmly and quietly chatting with the turkeys, roosting in the trees behind our little red barn north of the pond. I woke Friday morning to a very cool room and more chatter by the geese. This early morning chatter was a bit more lively.
Yeah, it was perfect.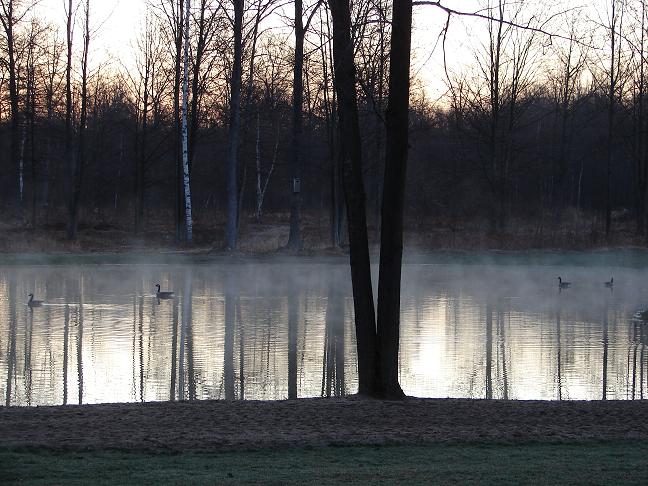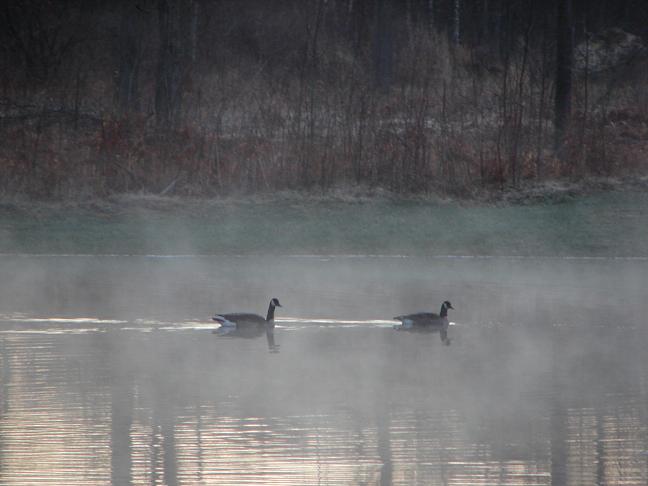 The pond is so full right now. I remember when Kevin decided he wanted to build this pond, and I thought he was going overboard. Too big and too close to the house, but mostly way too much money. But my heck!, when that man is right, he is so
right
. I love our pond. I love sitting outside in the mornings and watching the sun on the water, nice cool breeze, hot coffee...
This morning, I saw a couple of ducks land on the pond. I got very excited when I discovered it was a pair of Wood Ducks.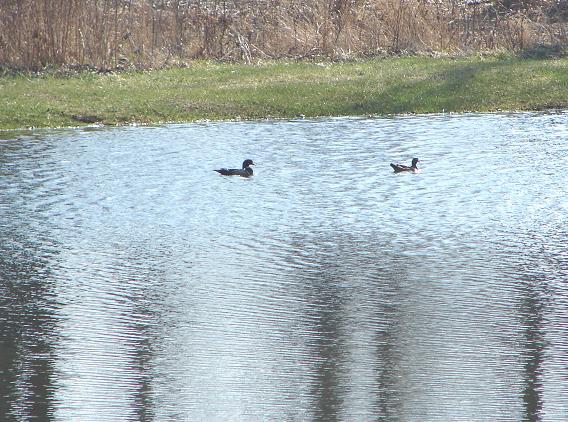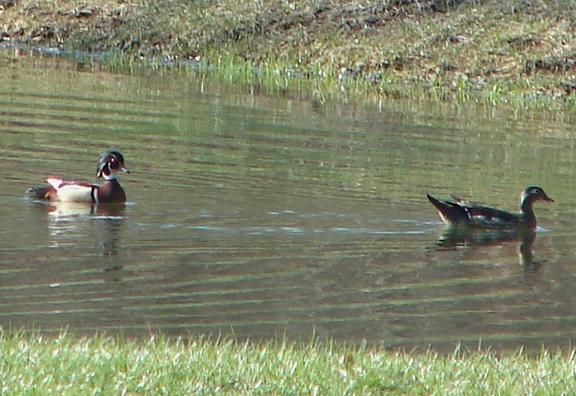 I didn't try to get close enough to take a good photo because I didn't want to scare them away. I was rewarded for my willpower by another pair landing on the pond about 15 minutes later. They stayed only a few moments and then took off. I think the other pair told them to get lost. The first pair swam from one end of the pond to the other, then back and forth, every once in a while going up on the bank. I realized they were going up on the bank at the places where we have wood duck houses set in trees. I would be so happy if they decided to nest in one of them... but I just realized that neither Kev nor I have cleaned out the houses yet. Crap. Now I wonder if it's too late.
And speaking of crap, we have a woodpecker who has, since
very
early this morning, decided to peck on the metal downspout near our bedroom. A stupid woodpecker. Unless of course his intent is not to find a meal of insects but rather to annoy us immensely... in which case, he's brilliant.