Yesterday early evening when Kevin woke (he's working midnights this week) & Joycie got home from soccer practice, Kev suggested they all take me out to dinner for my birthday after all since Sammy's baseball practice was canceled. I looked at him and said, "it is my birthday, right? so I should get to do what I want, right?" And you know he didn't argue with that. What I wanted was to get into my jammies and have Kev make me a bowl of oatmeal and toast for dinner. So I did and he did. It was comfy and I loved it. Kev baked me a birthday cake and Joycie decorated it and Sammy put a bunch of candles in it. It was beautiful.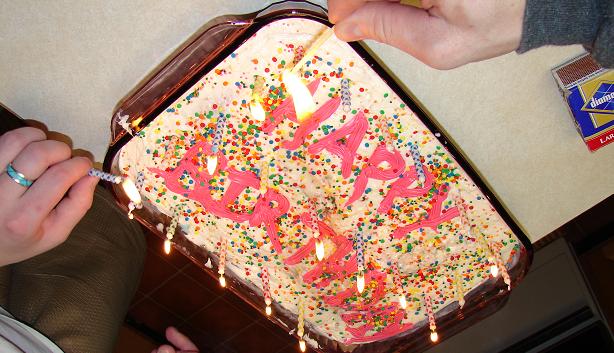 Weird angle, huh? I rotated the photo... I like how it makes it look like it's falling off the counter. The four of us had birthday cake and ice cream while watching "How I Met Your Mother" on TV, and that show was so funny that I nearly snorted cake out of my nose.
I had a wonderful birthday.