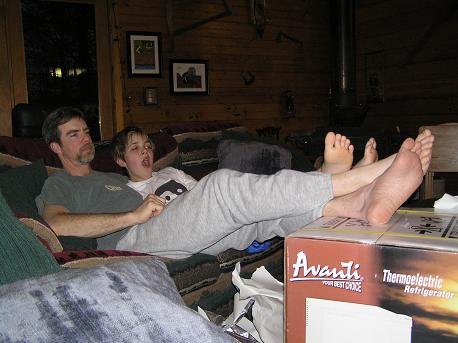 Today my hubby turned 45 years old! We'll be the same age for a month, and then I'll be a year older. Which is, of course, a year better. Ha!
Kev is on afternoons this week, so all 4 of us got up early and celebrated his birthday together. Joycie, Sammy & I got him a mini-frige for the pole barn, and a DVD, Walk the Line. Kev was so surprised. Finally! Got him something he was really happy about and didn't expect. He's a hard guy to buy gifts for. Especially when you don't have tons of money. With tons of money, it'd be easy to choose him a gift. I suppose that's true for everyone...
Anyway, after his happy surprise, we then had birthday cake for breakfast. At Sam's suggestion, we made him a Better-Than-Sex cake. Yum. Especially Yum! with coffee.
Better-Than-Sex cake is a german chocolate cake mix, baked normally in a regular cake pan, then as soon as you take it out of the oven, poke a bunch of holes into it with the end of a wooden spoon, pour & spread 1 can of sweetened condensed milk on top, 1 jar of butterscotch (or caramel) ice cream topping, 1 container of whipped cream and then sprinkle generously on top with Heath bits & milk chocolate. It's best when refrigerated overnight. Yep, it's rich. Kinda makes my teeth hurt thinking about it sometimes. But it's goooooood!
Sam asked me yesterday where I got the recipe, and I told him that when I was way,
way
pregnant with him, our friend, Canice, brought it over for me. I told him it was kind of a joke because the cake was supposed to be better than sex, and since I was so very pregnant, I couldn't have sex, so the cake was a replacement.
Sam: Oh, MOM! Jeez.
Me: Yeah, see what I gave up to give birth to you? Sex.
Sam: Oh, MOM! Stop it. And before you even bring it up, I know that's how I got here.
Me: Well, anyway, I did get a good cake recipe out of it.
Sam: Yeah, you did.
Not the healthiest of breakfasts, but what are birthdays for anyway. Kinda funny how good it was at 6:50am. Joycie had to leave for school about 7:00am. Then Kev drove Sammy to school at 8:15am. I took the day off to spend with Kev. Sam asked what we were planning to do for the day. I told him we were going to put the cake theory to the test.
OH, MOM!
So, anyway, we're changing it to Not-Better-Than-Sex-But-Close-Enough cake.