Yesterday was another beautiful, warm & sunny day. Kev & I, along with Reilly, Barney & Betty, took another walk. This time we went along our northern property line. Kev has a new trail started there, and it's still rough. Lots of water out there. Barney & Betty love it. Reilly doesn't seem to care to enter those brown, small pools of water, but the 2 labs can't seem to pass one up without jumping in and checking the taste of 'em.
Now the pond is a whole different matter for Reilly... he & Barney love it. Betty goes along the edges, but she's too old and fat to really enjoy a good flying jump into the pond.
Along the way of our walk, the dogs found an old green frisbee in the sand back where Kev has constructed a shooting range. Kev threw it for Reilly & Barney as we continued our walk back to the house... where we reached the pond. You could practically feel the 2 dogs' energy. And joy. They could hardly wait for Kev to throw it into the pond.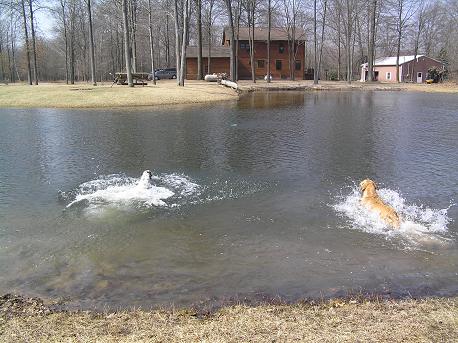 On land, Barney, who is all bulky muscle, cannot win a race with Reilly, who is all stringy, fast muscle. But swimming is what labs like Barney can do best... Reilly has no hope of out-swimming Barney. Most often, Barney would get to the frisbee in the pond first.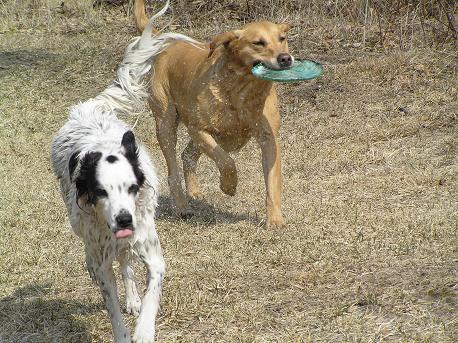 It's fun to watch the 2 of them. Those 2 dogs are so competitive with each other, though they
adore
each other's company. They took turns getting and guarding that frisbee for just about the rest of the afternoon.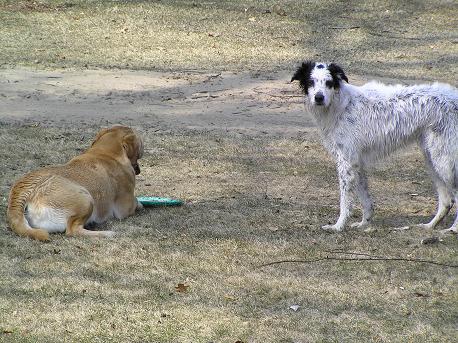 And old Betty cared about this much...