Today is officially the 2nd day of our spring break vacation. I am so happy about just staying home... Sam is still bumming a bit coz most of his friends headed to Florida, and I'm sure beginning tomorrow that he will
really well & truly
wish he was with them.
And today has begun perfectly... well, almost... Kev has to work a day-12 today (but it is double-time, yeeha), so I miss him already. Sammy was up early, around 7:30am, and I was awake but laying in bed... Just before 8am, he made a pot of coffee for me & brought a cup to me while I was still in bed. Heaven. My boy's a gem. And he makes a great cup of coffee.
Yesterday was mostly a blow-off day. Kev & Sam took off early and went to Cabelas where Kev bought something he's been wanting for years and then over to pick up his new baby, the log splitter. They were gone all day. Kev was happy. The log splitter is very impressive, and a beautiful shade of blue.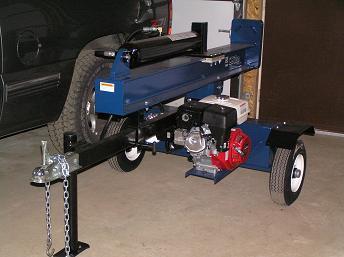 The only thing I got done on my "Spring Break To Do List" was get our tax papers over to our tax guy. Then we went and picked up my nephew, rented some movies and got pizza for a nice, lazy evening. Matched my mostly-lazy day.
Joyce slept in until after noon, but she needed the catch-up sleep time. It was so nice out that I decided to take Reilly and my camera and go for a walk. Reilly was very happy, and his beautiful tail was up like a flag.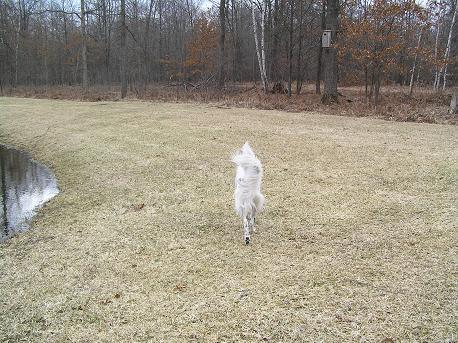 We walked around the pond, which is very full, as it always is this time of year.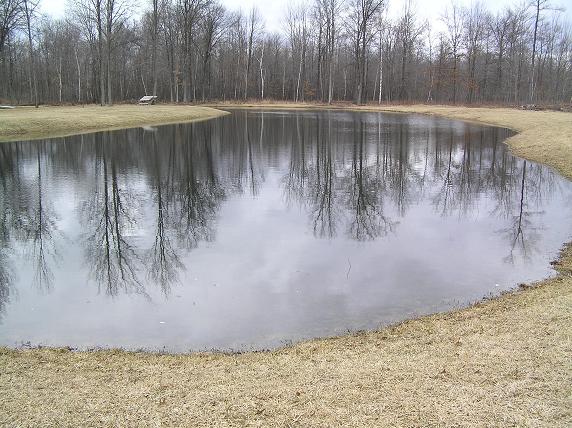 We walked through the woods. There are a couple of places on our property where people back in the 1930's or 40's or so used to dump their trash. There was no official dump or city landfill. My folks' property has one site that's on a hillside, and as a kid, we used to dig through it for treasures all the time. Found a few neat things, too. I've been through our trash sites, and I found some old, entact bottles, like the brown Roman Cleanser or Coca-Cola bottles. I've got a few boxes of old, dirty bottles somewhere out in our pole barn.
Anyway, this time of year is a good time to check out what the thaw has wrought on the dump piles.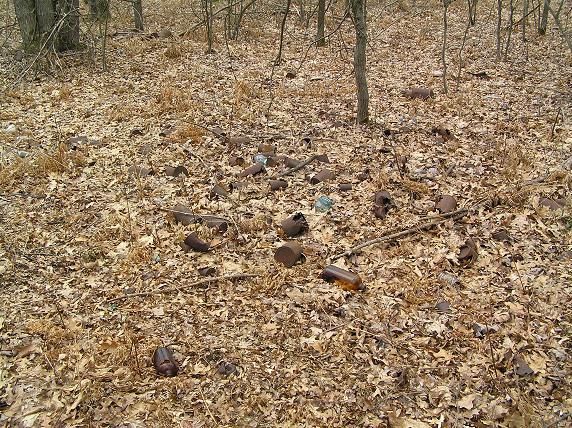 Two minutes of looking, and during that time Reilly managed to find something gross and stinky to rub and roll in. He knew I was pissed, and he wouldn't look at me.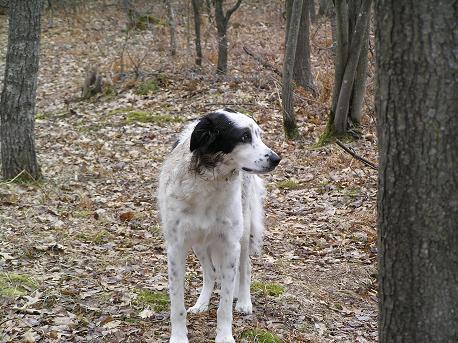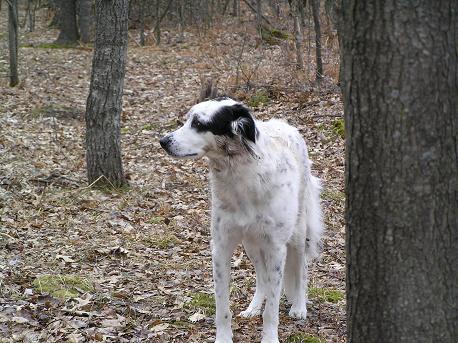 Damn dog. So I made him stay in the garage until Joyce got ready to give him a bath. (Hey, there are some perks to being the mom.) She wrapped him up in his blankie while he dried. He was still feeling guilty... good!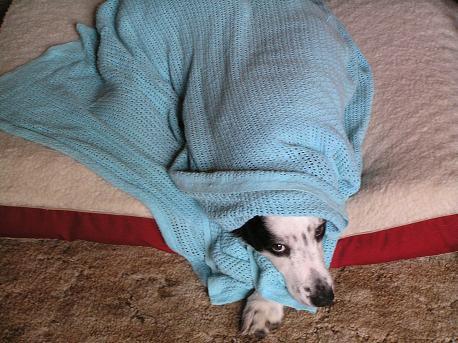 But he did smell much better!
So today I've decided to not try & accomplish very much, maybe take another walk, get my closet in order, maybe start on sorting the books on the library shelves, plan a nice dinner... take it kinda easy... but tomorrow starts the Spring Cleaning. Big Time.