I saw Dr. Adams yesterday afternoon (the neurosurgeon), and I told him my vertigo was pretty much over and that I wanted to return to working full-time in the office with no restrictions... and he agreed! So Monday, I'm hoping my life will begin to return to normal. As normal as our life gets anyway...
Last time I saw Dr. Adams, thankfully in his Midland office closer to home, he had given me a doctor's note to be out of the office for 2 weeks because of the vertigo (which wasn't related to my neck), and so I had to see him yesterday to get an official doctor's note so I can be back in the office full-time. It'll be nice not to bother with my company's health services department any longer. Done. Thank God.
While at his Midland office, up at the counter when I was checking in, I noticed the files they had ready to go for his appointments that day... His main office is in Saginaw, so I'm sure they pull all the folders for his day's appointments and take them over to Midland. I couldn't resist snapping a couple of pics with my cell phone...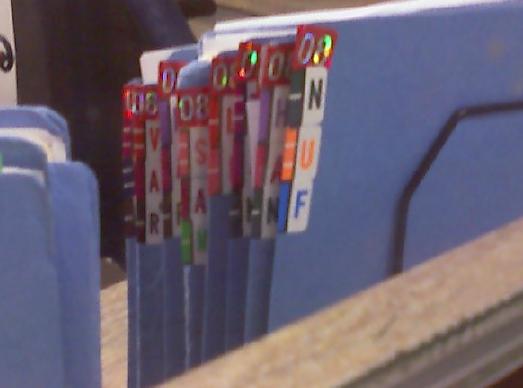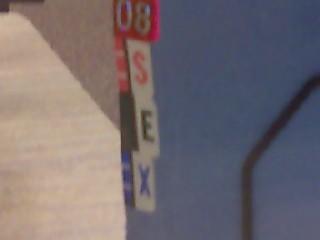 But I can't decide if it's NUF SEX, as in 'nough (enough), or dyslexic FUN SEX....
I had to drive over to Saginaw to see the doc yesterday, and from our house, it's close to an hour's drive. It felt kinda weird driving, since I couldn't drive with the vertigo the past 3 weeks. My appointment was at 3:30pm and I left my house around 1pm... I thought to give myself plenty of time, and hey, if I saw a garage sale, I'd stop (always on the lookout for
books
).
Yesterday, like the day before and like today, was hotter than allgitout and muggy. Ugh. Not a good day for garage sales; I saw 3 I think. Not worth stopping. But I did see this, sitting on a front porch in town...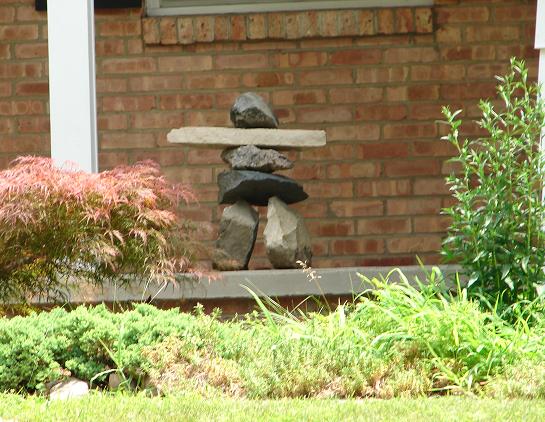 I had to back my car up and get my camera out. I thought I was the only one in this county that had one; here's mine...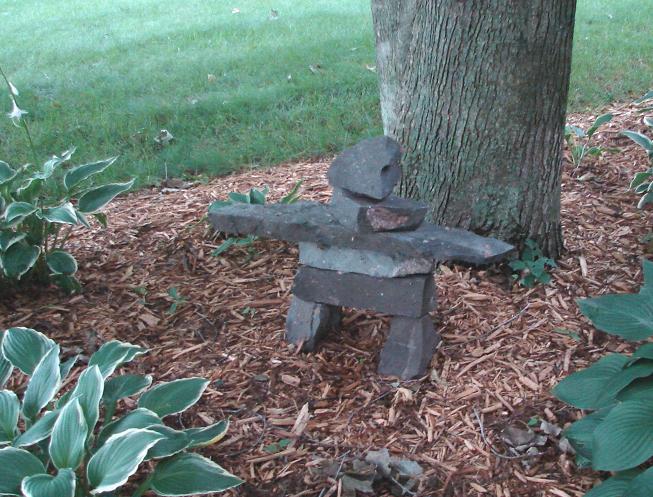 These are called
inuksuks
. A few years back when Kevin and I drove up to Cochrane, Ontario, way up north through the Upper Penninsula of Michigan through Sault Ste Marie and up highways 129 and 101 in Canada, we kept seeing these little stone people along that gorgeous drive. (Beautiful country up there.) I took a bunch of photos of them, film back then, not digital. While in Chochrane, we hit a gift/souvenir shop, and they had little replicas of them... that's how I discovered they are called inuksuks, and I bought one (it's on my desk at work). We went up there to collect "
Junior
," Kevin's chest-mounted black bear, from the taxidermist. We stayed overnight in some hotel, and it turned out to be really nice, and we had a nice dinner there too. It was a great road trip. On our way back home, Kev and I gathered stones so that I could make my own inuksuk at home.
Speaking of road trips, Kev and I took a short one this past Sunday. We decided to take some back roads... I took this photo of the 2 of us back on a dirt road along one of the many, many farm fields we saw...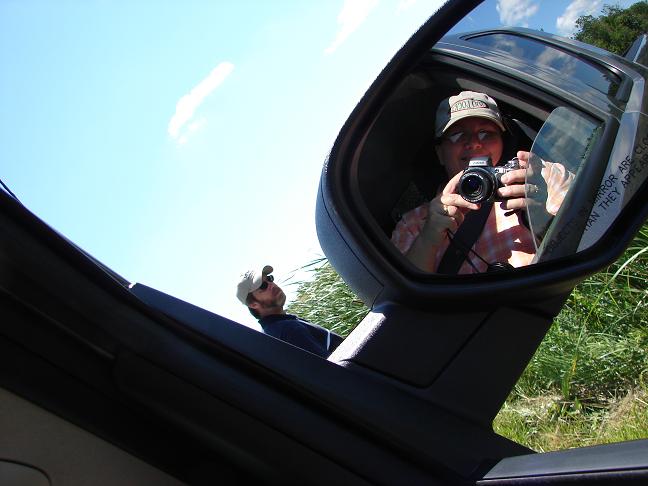 Yep, Kev's taking a little break... guys are so lucky that way on road trips. *
sigh
*
Our plan for the day was to go walk on a beach. In Michigan, you're never that far from a beach on one of the Great Lakes. We decided to try and get to
Albert E. Sleeper State Park
, but we made it only as far as
Caseville
. We stopped right before Caseville proper, and we took a walk out on this long pier out into Saginaw Bay. It was a gorgeous day, but also super, super windy.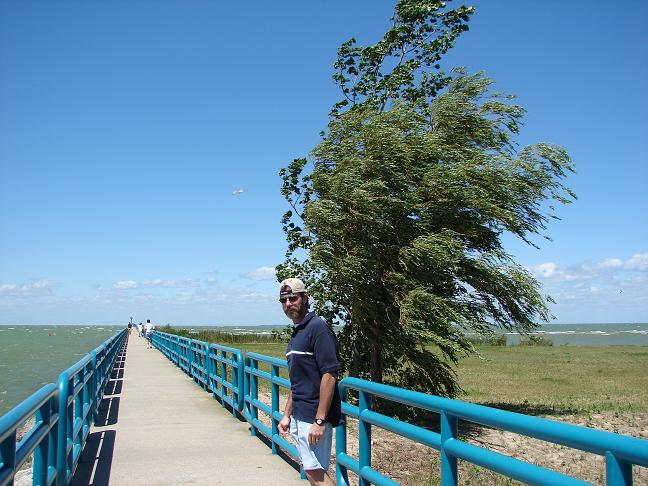 We didn't make it all the way out to the end of the pier, because it was so windy, half way there & my shirt was blowing up around my ears. Too much wind to keep things under control, and I almost lost my hat. I took this photo by perching my camera on a rail across from us...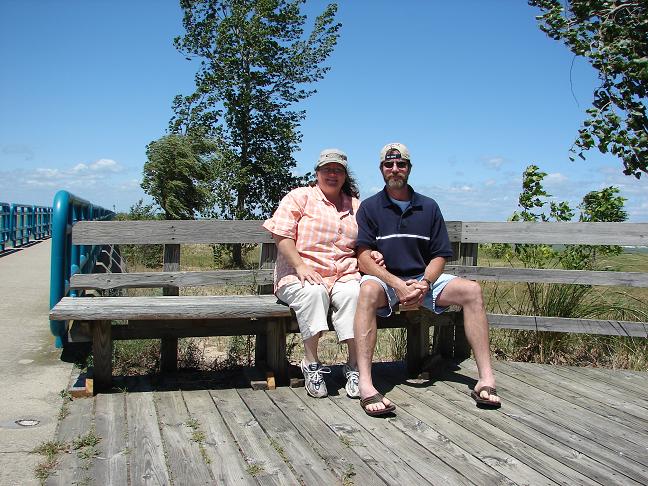 And the wind almost knocked the camera off the rail. My hat says "Soo Locks." I believe I bought that on our Cochrane road trip when we went through Sault Ste Marie. I wouldn't want to lose it.
We stopped in Caseville for lunch, where I had the best cheeseburger I've ever had. Wish I could remember the name of the place. It was a "black and bleu" burger with cajun seasoning, swiss cheese and bleu cheese dressing. Yummy. Caseville
is
known for their
cheeseburgers
...
But after lunch, we ended up just heading back home... I think because our truck was parked in that direction. About 20 minutes down the road, Kev looked at me and exclaimed, "Shit!" We never made it to the beach... forgot all about it. (I told you that was one good cheeseburger. The margarita was pretty good, too.) But I had had enough of the road trip and was happy to be heading home. Won't be doing that again soon. Like probably not until next summer. The neck can't take it yet.
On our drive, we also saw tons and tons of political posters everywhere. I saw a ton of them yesterday, too. Lots of elections going on. This one, however, is by far my favorite so far...